The much-anticipated fifth generation of mobile technology, 5G, has arrived. A rising number of countries, including the United States, Canada, China, India, the United Kingdom, South Africa, Japan, and South Korea, are testing 5G networks. Even developing nations like Nigeria are already testing this new network. Brands of mobile phones that support 5G are also on the rise.
Depending on the specification, 5G promises better data speeds ranging from 50Mbps to 1.8Gbps. According to the GSA report, there are over 404 commercially available 5G devices as of March 2021. OnePlus, Samsung, TCL, Xiaomi, Huawei, Oppo, and Nokia all have one or two smartphones that support 5G. Google and Apple recently included 5G features in their recent phone, the iPhone 12, and Google Pixel 5 and as you might expect the iPhone 13 and Pixel 6 will also come with 5G support.
If you have just bought a new smartphone or you are planning on buying one, how can you tell if it's 5G support? This article explains how you can tell if a phone supports 5G.
Checking Smartphone specs Online
The fastest way to know if your phone supports 5G is by checking the specs of the phone online. The best way is to go to the phone's website to see the specs, but not all phones have an official website to show the specs of their smartphone. Also, it very difficult to know the exact websites of the different smartphones.
Vic's guide shows the specification of different smartphones in the Gadget category of our website. To check the specification of any smartphone on our website;
Go to search above
Then, type the name of the phone you are searching for
Scroll through the specification and then go to the "Network" session. Check for 5G under Bands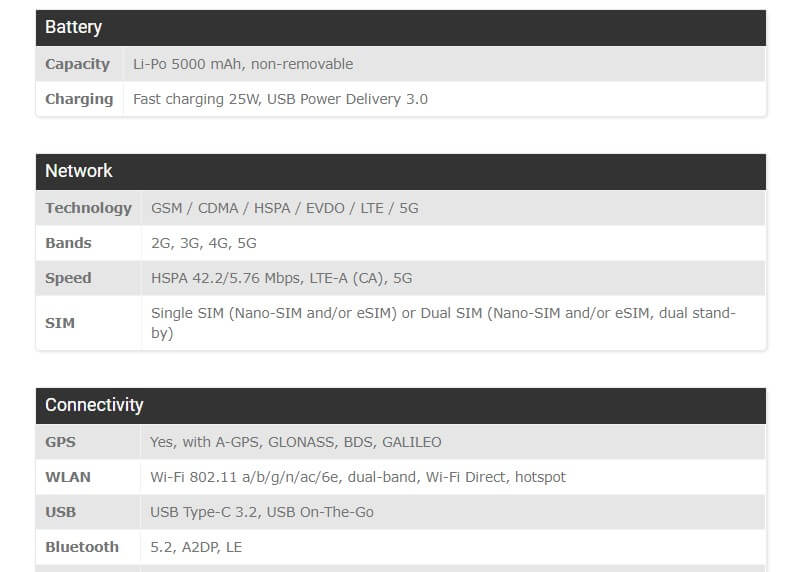 Android Phone Setting
Checking the phone settings is another quick approach to see if your smartphone supports 5G. If you're using an Android device, go to Settings >> Network & internet >> Mobile Network >> Preferred Network type. You should be able to view all of the supported mobile network technologies, including 2G, 3G, 4G, and 5G. If your phone is advertised as supporting 5G, it is likely capable of doing so.
Do you need a 5G Phone?
5G devices are improving rapidly, and you might be thinking of buying a phone because it supports 5G. Well, I will advise you not to buy a 5G phone for now, because the standard has not been settled. It just as if 5G is in a beta stage.
It will still take up to three years before the standard is settled. If you are the type that uses your smartphones for three to four years, it is okay to buy a 5G phone. But for now, chances are that 5G is not available in your area, and even if the 5G coverage is in your area, it is not still faster than 4G.
List of phones that supports 5G in 2021
Below is a list of the best 5G smartphones you can get in 2021.
Every year, the number of 5G smartphones on the market grows. We can't possibly list every available smartphone here, but I'll list the most popular smartphones with 5G capability as of 2020.