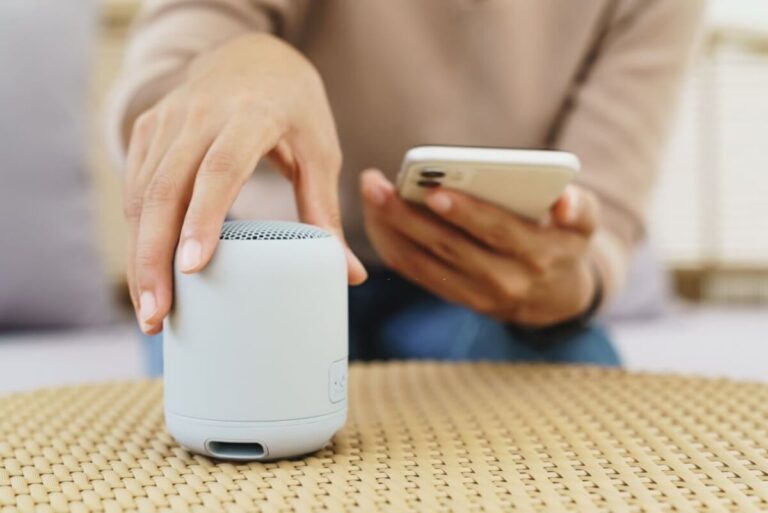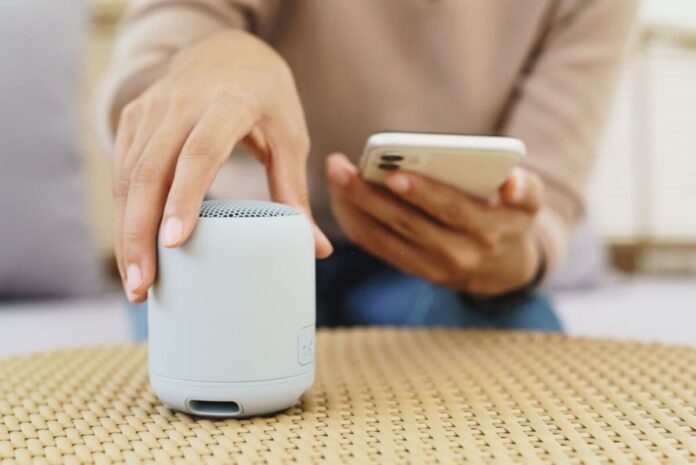 Almost everyone loves a rocking party where the banging sound from the loudspeakers gets everybody on the dance floor. If the party is indoors and you probably want to use two Bluetooth speakers to uplift the vibe, it won't be easy since only a DJ can play simultaneously. Hence, you will need to connect to two or more speakers simultaneously.
The possibility of connecting to multiple Bluetooth speakers simultaneously through an iPhone has remained a recurring question on the internet, and you will get an answer on this page. You will also get to know how to do this if possible and get information about some other related topic.
Can You Connect Multiple Bluetooth Speakers For iPhones?
The simple answer is YES. It is 100% possible to connect multiple Bluetooth speakers for iPhones; however, there are rules to doing this. The best part is that you can also use a couple of methods to achieve this, which makes it fair.
The latest iPhone models that run on the IOS 11.4 and newer Operating Systems (OS) have no problem with this since they support Bluetooth 5.0. Bluetooth version 4.2 and older versions only allow the traditional one-to-one connection, but things have changed even with the Bluetooth 4.2 one-to-one connection.
iPhones that support Bluetooth 5.0 come with a feature called audio sharing, which enables users to connect to two or more devices at the same time. For iPhones running on Bluetooth 4.2, you can connect to two devices simultaneously through an application.
How to connect multiple Bluetooth speakers for iPhones
As stated earlier, you can connect to multiple devices (speakers) on your iPhone. The methods will be discussed in detail below:
Audio Sharing Method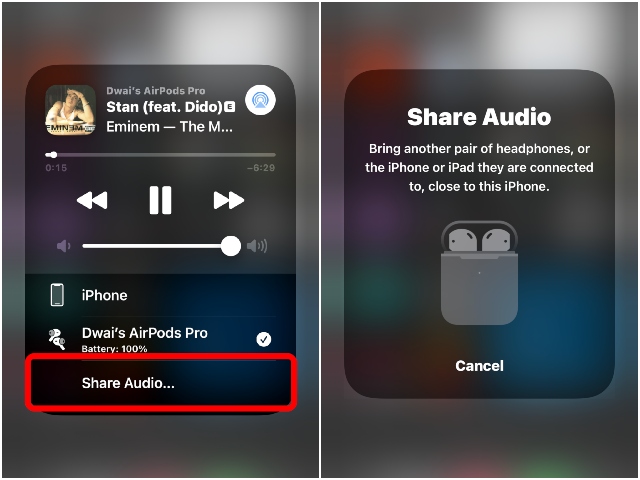 This method does not require any app; you need to utilize the audio-sharing feature of your iPhone. However, your iPhone must be running on IOS 11.4 or newer and supports Bluetooth 5.0 for this method to work effectively.
For instance, let's say you are trying to pair your headphone and speaker simultaneously with your iPhone. Here is how to do it:
Ensure both devices (headphones and speaker) have been paired with your iPhone
Connect one of them to your phone and start playing music
Access your Airplay through Control Centre or from Playing Controls (tap the icon to access it)
Please tap on the share audio button and move your phone close to the speaker for it to be detected
Allow your iPhone to discover the device and "Join" the connection
Note that this method works only with compatible devices; your headphones and speaker must be discoverable and compatible with Bluetooth 5.0. These devices include the following:
Apple's HomePod Stereo Pair
Airplay 2 Compatible Speakers
Ultimate Ears Speakers
Amazon Echo Smart Speakers
JBL Speakers and so on
Mobile Application
Although mobile applications offer the best method of connecting to multiple speakers for Android and iPhones, the generality of the method may be limited to speakers from the app developer. This method is reliable and would not disconnect easily like the audio-sharing option; however, it may not be compatible with every speaker.
Some of the popular mobile applications that are frequently used to do this include:
AmPMe
AmPMe is arguably the most popular and practical mobile application to connect your smartphone to multiple speakers. The most exciting part is that the app is not brand specific and allows you to even connect to more than two devices.
All that is needed is for you to establish a connection (to act as a DJ) or join a party to listen to the same song as the host. You can connect to your friends through your Facebook or Google account and use the on-location feature of the app to find a party near you.
AmPMe does not directly connect your phone to two or more speakers but connects you to speakers via the devices of other parties. Hence, everyone at your party can listen to the same music through their speakers.
Bose Connect
Bose Connect is another excellent alternative to using AmPMe; however, it is brand-specific. This means it only supports speakers and headphones from the brand; Bose allows you to connect up to two speakers simultaneously.
Before downloading, you can confirm if your iPhone or Android device is compatible with the app on Google Play Store or App Store.
Ultimate Ears
Ultimate Ears is another brand that developed two mobile applications to connect multiple devices to a smartphone. However, the apps are brand-specific and only work with Ultimate Ears Speakers.
Unlike the Bose Connect App, you can connect up to 50 Boom 2 or MegaBoom speakers to your device simultaneously through the Boom or MegaBoom app.
JBL Connect
JBL is a popular wireless speaker manufacturing company, and you can also use its app, JBL Connect, to pair up to 100 JBL Speakers to your smartphone simultaneously.
Smart Speakers
Smart speakers can connect with external loudspeakers without losing connection to your phone. Since it is a smart speaker, you may consider playing music directly from it and then combining it with the external loudspeaker.
There are several intelligent speakers that you can purchase, but we will highly recommend two of the most popular ones; that is, Amazon Echo and Google Home Speaker.
Can You Connect Multiple Bluetooth Speakers For Android?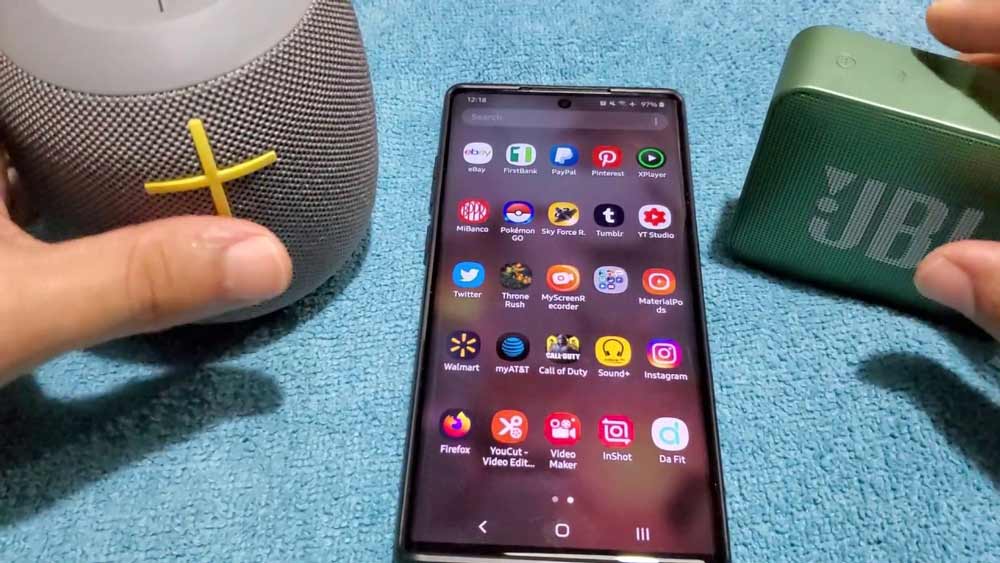 Since we have seen that it is possible to connect multiple speakers to an iPhone and discussed how to do this, let's consider if it is also feasible for Android devices.
Indeed, you can also connect multiple speakers to an Android device, given that it supports Bluetooth 5.0 and is compatible with the speakers. The feature that allows this in Android is known as "Dual Audio" and can be found readily in the latest Samsung models, including the S8 and newer models.
However, you can also use the mobile applications we discussed earlier to connect to multiple speakers, given that all the requirements are met.
How to connect multiple Bluetooth speakers for Android
Connecting multiple devices to your Android phones through Bluetooth is no big deal and can be done quickly once your phone has the "Dual Audio" feature. Just follow the steps below, and the two speakers will be blaring in no time.
Hover to Bluetooth Advanced Settings on your Android
Turn on the Dual Audio button.
Connect to the two (2) speakers, and music will start playing from both devices.
Note that connecting the third device will displace the first connected device and will do the same if you connect another.
Conclusion
Having just an iPhone and multiple speakers should not stop you from enjoying the right vibe at an indoor party or any other event. It is a known fact that a single loudspeaker might not be enough to create a high surround sound which may make a party boring.
We have suggested different methods for using multiple speakers with your iPhone and Android devices to avoid this. You can utilize any suggested methods to ensure you never have a dull time at a party.