Social media apps are being used as a way for people to communicate with one another. These apps have a significant user base as well. Facebook is one of these platforms.
Facebook allows users to communicate, share media, and even share thoughts. However, many believe the service has problems protecting its users' privacy. As a result, the question arises: will a user be notified if I capture a screenshot of their profile picture, posts, or story?
Does Facebook Notify someone when you screenshot their Facebook Stories or posts?
If you're the one who took the screenshot on Facebook, the answer is an emphatic no. If you take a screenshot of someone's profile photo on Facebook, they will not be notified. Unlike Snapchat, the only notification you'll get is that you've taken a screenshot from your phone.
If you're wondering if Facebook will notify any user when you screenshot their photos, screenshot their posts, save any Facebook photos, or screenshot photos on Facebook Messenger.
No, they will not be notified in any way. This feature is not supported by Facebook (available on Snapchat). However, if you capture a screenshot, your phone's OS will notify you.
Does Facebook Notify you when someone screenshots Messages on the Facebook Messenger app?
As for the Facebook Messenger app, when you screenshot messages, it does not provide any notifications for normal messages. Even if you take a screenshot while chatting with a friend or stranger, your phone's operating system will notify you of the action, but the other person will get no notification.
But recently, Facebook just added a new feature to the messenger app. The other person gets notified if you screenshot a disappearing message on the messenger app. Therefore, you only get notified when someone screenshots your chats if you use disappearing messages.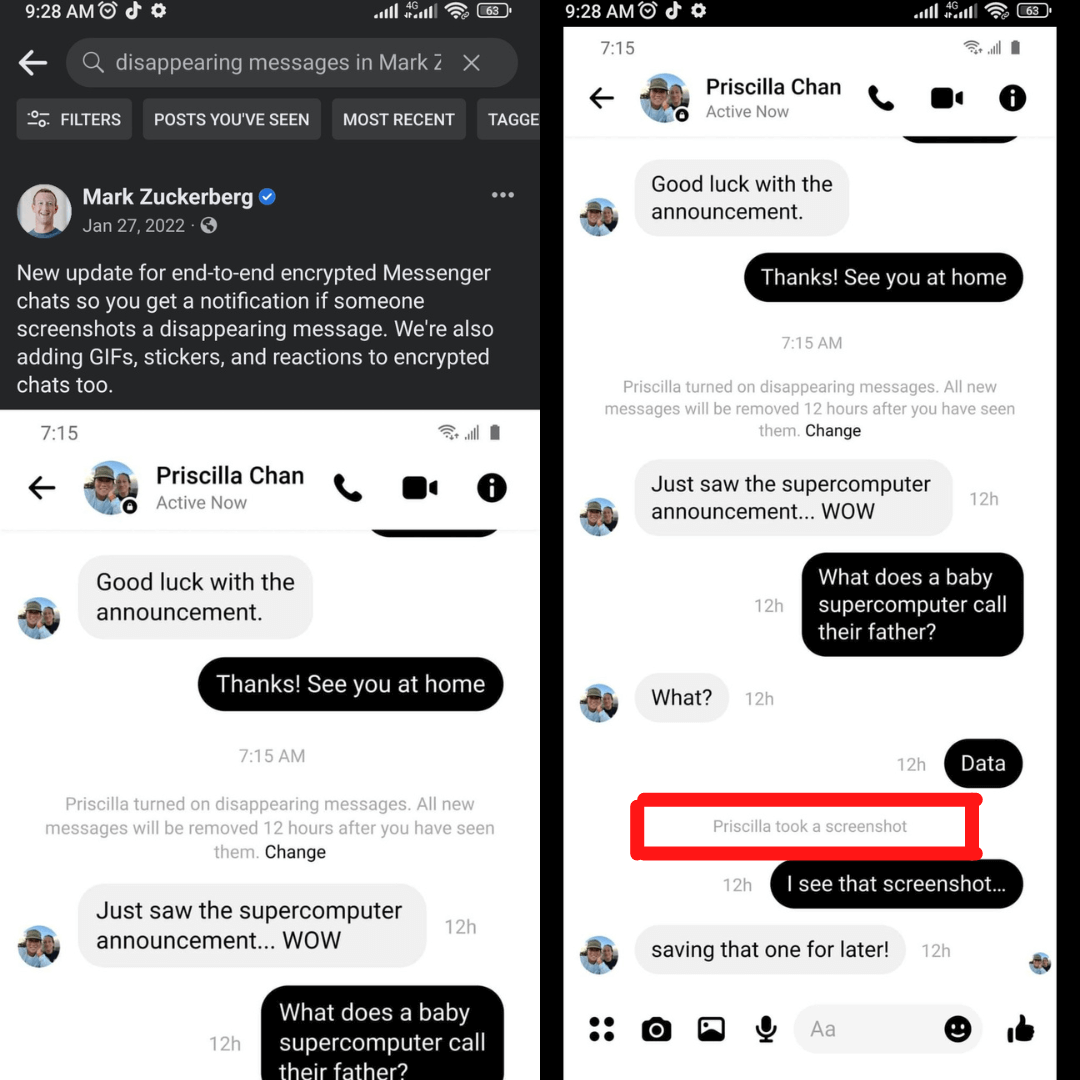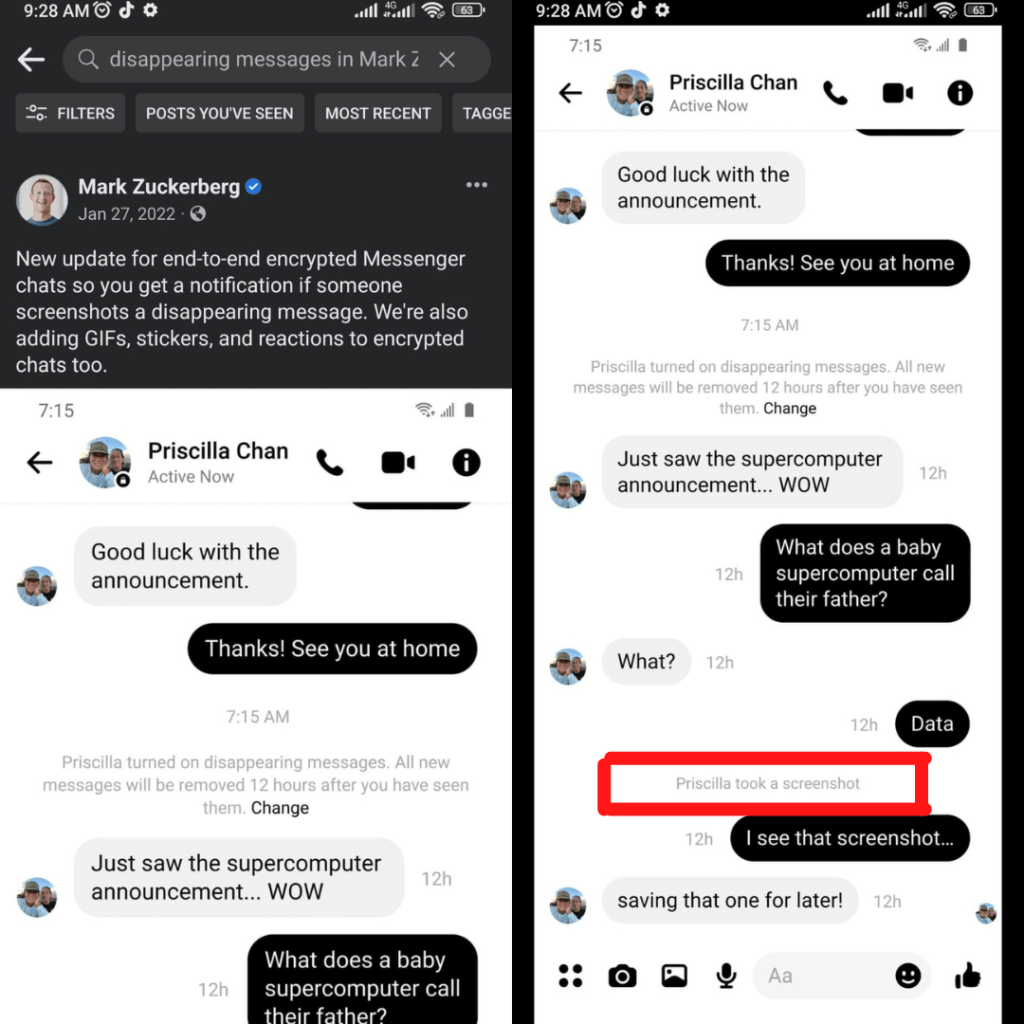 There are some practical solutions if you're concerned about people taking your photos via screenshots on the internet. However, we recommend not publishing images or restricting who can see them.
Read Also:
Social Media that Notifies you of Screenshot
Snapchat
Snapchat is a well-known social media platform whose fundamental feature is that any picture, video, or message you send is only available to the receiver for a limited time before being inaccessible?
Snapchat was initially designed to be used for private, one-on-one photo sharing. Still, it can also be used for various tasks, including sending short videos, live video conferencing, texting, creating caricature-like Bitmoji avatars, and broadcasting a chronological "story" to all your followers.
Since you have a large audience, anybody would like to take a screenshot of your pictures. When anybody does this, Snapchat notifies you, the creator of that picture.
Instagram
Instagram, like Snapchat, is a mobile-only social networking site focusing on photo and video sharing. You may create, edit, and post visual content for your followers to enjoy, comment on, and share.
Instagram does not actually notify you of a story screenshot or any pictures uploaded to the public. But it will notify you of any screenshot made in a private message.
Facebook Messenger App
This messaging app, which Facebook owns, also has a screenshot notification feature. When someone takes a screenshot of a private message or conversation, the app will send a notification to the user who posted the content. This can help protect users' privacy and ensure that their conversations are not shared without their consent.
Read Also: 4 Ways to recover deleted Instagram Messages
How to Share Your Facebook Photo Easily
The app has an outstanding onboard Share feature that allows you to share photos without taking screenshots. Hit the Share Button to share it with a friend on Facebook.
You may also hit the three-dot menu on the photo to open it. Then, tap the External Share icon to share on Twitter, Instagram, WhatsApp, and other social media platforms.
Facebook Screenshot notification conclusion
Overall, screenshot notification features on social media apps can protect privacy and ensure that content is not shared without permission. These features can help users feel more secure, knowing that their messages and images are not being saved and shared without their knowledge.
Because Facebook is used by most of the world's population, the social media site should improve its security features by prohibiting the unauthorized download of your photos. However, some users have noticed that Facebook has taken a step in this direction by integrating a profile photo guard in its app.
On downloaded images, this function displays watermark-like lines. It even prevents you from taking screenshots until you are in your profile photo.
Similarly, the protected profile images will not have a share or save option. When it comes to the desktop version, you won't be able to save the image as an image file any longer. Instead, as with most websites, it will be downloaded as an HTML file.
The Share or Save option does not appear as intended with protected profile photographs. There is no way to save the image on the PC version. However, because it contains experimental features, errors may appear during use.
In conclusion, Facebook does not notify either side when screenshots are taken, but tapping the Share Button is the best way to save a photo. Of course, you can also ask the photographer's permission before saving the image if you feel brave.