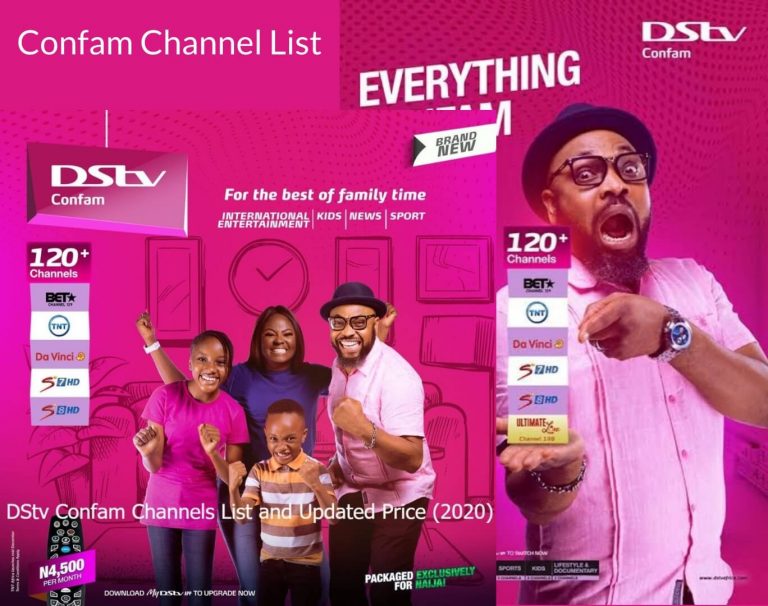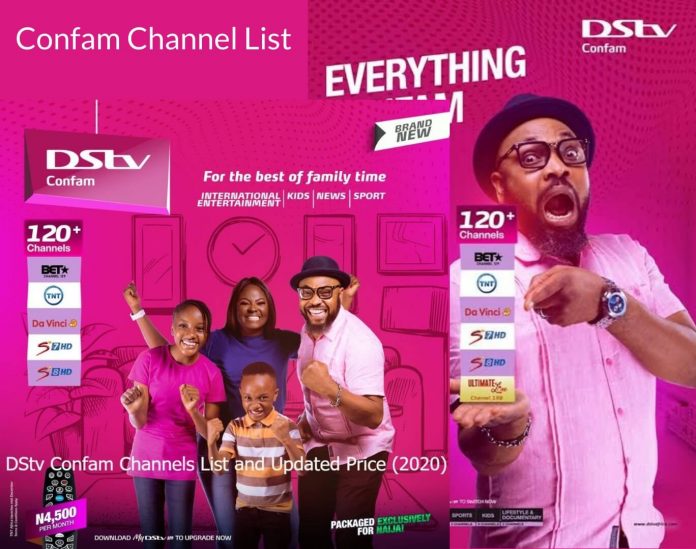 DSTV Confam package is one of the cheapest and latest packages introduce in December 2020 by Multichoice to provide subscribers with more choice to choose from. But the introduction of this new package made many subscribers confused as to which is the best for them.
Just to help you decide if the Confam package is best for you, I have compared the list of channels available in Confam, Yanga, and Compact. These three packages are very similar but the price is different. Yanga is the cheapest in this comparison, followed by Confam and Compact cost you more.
With every added price, you get more channels to watch. But the question is, are you interest with these added channels?
The rest of this article discusses everything there is to know about the DSTV Confam package, the list of channels in this package, and the price. You should note that Multichoice could decide to remove any of these channels or add to them. But I will always update this article whenever there are changes made by Multichoice.
Read also- Best cheapest phones | best phones under 50,000 naira | How to duet on Tiktok
About DSTV Comfam
DSTV Comfam provides you with a lot of exciting channels to watch. You are able to watch many of the Nigerian channels and a whole bunch of African channels, movies, dramas, documentary shows, news and Kids channels, and a lot of interesting Channels.
DSTV Confam Channel List and Codes
There are 105+ channels in the DSTV Confam package according to DSTV. But from my count, there are 105 channels, but this can change anytime. This is a list of available channels you get from the DSTV confam Package.
MOVIES AND DRAMA
M-NET CITY [115]
UNIVERSAL CHANNEL [117]
TELEMUNDO [118]
E! ENTERTAINMENT [124]
FOX [125]
FOX LIFE [126]
BET [129]
CBS REALTLY [132]
DISCOVERY FAMILY [136]
TNT AFRICA [137]
M-NET ZONE [139]
EVA [141]
EVA+ [142]
AFRICA MAGIC EPIC [152]
AFRICA MAGIC FAMILY [154]
REAL TIME [155]
AFRICA MAGIC HAUSA [156]
AFRICA MAGIC YORUBA [157]
MAISHA MAGIC EAST [158]
AFRICA MAGIC IGBO [159]
MAISHA MAGIC BONGO [160]
ROK 3 [164]
EBONY LIFE [165]
ZEE WORLD [166]
STAR LITE [167]
ROK 2 [169]
POP CENTRAL [189]
TELEVISTA [194]
TRYBE [195]
CHINESE MOVIES [481]
LIFESTYLE
BBC LIFESTYLE [174]
FOOD NETWORK [175]
FASHION ONE [178]
SPICE TV [190]
SPORT CHANNELS
SUPERSPORT BLITZ [220]
SUPERSPORT 7 [227]
SUPERSPORT 8 [228]
SUPERSPORT 9 [229]
SUPERSPORT 10 [230]
NIGERIA STATIONS
ETV AFRICA [250]
NTA I [251]
SILVERBIRD [252]
AIT [253]
CHANNELS TV [254]
MITV [255]
LTV 256
ONTV MAX [257]
GALAXY TV [258]
WAZOBIA MAX [259]
OGTV [260]
AREWA 24 [261]
WAP TV [262]
K24 [275]
ADOM TV [280]
CLOUDS PLUS [294]
WASAFI TV [296]
KID'S CHANNELS
CARTOON NETWORK [305]
BOOMERANG [302]
NICKLODEON [305]
CBEEBIES [306]
DISNEY JUNIOR [309]
JIMJAM [310]
PBS KIDS [313]
DA VINCI [318]
MINDSET LEARN [319]
MUSIC ENTERTAINMENT
MTV BASE [322]
HIP TV [324]
TRACE NAIJA [325]
AFRO MUSIC POP [326]
SOUND CITY [327]
URBAN TV [328]
FIESTA TV [329]
TRACE GOSPEL [332]
CHRISITIAN
FAITH [341]
DAYSTAR [342]
TBN AFRICA [343]
SBN [345]
EWTN [348]
DOVE TV [349]
LUMEN CHRISTI [350]
DOMINION TV [364]
EMMANUEL TV [390]
ISLAMIC
IQRAA [346]
ISLAM CHANNEL [347]
NEWS
NTA 2 [369]
NTA PARLIAMENT [370]
BBC WORLD NEWS [400]
CNN [401]
SABC NEWS [404]
NEWZROOM AFRIKA HD [405]
ALJAZEERA [406]
CGTN NEWS [409]
NDTV 24X7 [413]
EURO NEWS [414]
ARISE NEWS [416]
TVC NEWS NIGERIA [418]
NTA NEWS 24 [419]
INTERNATIONAL
CNC WORLD [415]
JOY NEWS [421]
RAI INTERNATIONAL [430]
TV5 MONDE [437]
DEUTSCHE WELLE [446]
CCTV 4 [447]
CGTN 9 DOCUMENTARY [448]
CGTN FRENCH [449]
B4U MOVIES [451]
CCTV ENTERTAINMENT [480]
DRAGON TV [482]
HUNAN TV [483]
JIANGSU TV [484]
PHOENIX ENTERTAINMENT [485]
RTP INTL [525]
TV MUNDIAL [680]
DSTV Confam Package price in Nigeria
DSTV Confam costs you only NGN 5,300 per month and NGN 58,300 annually. The annual payment only gives you one month free, that is, you are paying for only 11 months. You get 11 audio Channels and 10 HD channels along with the channels listed above.
How to Pay for Comfam Bouquet
To pay for Confam Bouquet, I highly recommend using quickteller. You can also subscribe using trusted internet banking, bank mobile app, ATM, Paga, and many other reputable banking agents.
If you don't have a DSTV yet, Check out available Deals on Jumia here
Yanga VS Comfam VS Compact
The price difference of Yanga, Confam, and Compact is almost double of each price from Yanga to Compact. This makes it unfair to compare these three packages since you already know you get a broader list of channels to select from.
But still, let's take a look at the benefits of one channel over another. Confam has all the list of channels available in Yanga. But if you go for Confam, you will pay an extra NGN 2050 monthly. Here is a list of channels in Confam that are not in Yanga.
Additional Channels on Comfam not on Yanga
BET [129]
CBS REALITY [132]
FOX [125]
M-NET CITY [115]
UNIVERSAL TV [117]
EVA [141]
STAR LIFE [167]
TNT AFRICA [137]
BBC LIFESTYLE [174]
FOOD NETWORK [175]
SUPERSPORT LA LIGA [204]
SUPERSPORT VARIETY 3 [208]
SUPERSPORT VARIETY 4 [209]
ESPN [218]
CNN INTERNATIONAL [401]
BOOMERANG [302]
CARTOON NETWORK [301]
CBEEBIES [306]
DA VINCI LEARNING [318]
TRACE GOSPEL [332] and lots more
Additional channels on Compact not on Comfam
Also, if you'd love to subscribe to Compact, you will get all the channels on Confam with a bunch of other channels. Don't forget you will pay an extra NGN 3,285 on the price you get confam to subscribe to Compact. Here is a list of channels you get over confam.
AFRICA MAGIC URBAN [153]
BBC BRIT [120]
LIFETIME ENTERTAINMENT [131]
MTV [130]
VUZU [116]
ROK [168]
STUDIO UNIVERSAL HD [112]
DISCOVERY ID HD [171]
DISCOVERY TLC ENTERTAINMENT HD [135]
NATIONAL GEOGRAPHIC CHANNEL [181]
SUPERSPORT PREMIER LEAGUE [203]
SUPERSPORT VARIETY 2 [207]
SKY NEWS [402]
DISNEY CHANNEL [303]
DISNEY CHANNEL XD [304]
NICKJR [307]
NICKTOONS [308]
MAISHA MAGIC PLUS HD [163]
TRACE MUZIKA [334]
TRACE MZIKI [323]
Conclusion
If you are concern about watching entertainment shows, movies, Drama, and the likes and you don't care a lot about sports, then the Yanga package is for you.
If you are a lover of sports and you don't want to miss out on SuperSport La Liga and every other sporting activity, then consider going for the Confam package. The Compact Bouquet is for anybody that wants more, both entertainment, sports, news, and every other area.
There you have it, a list of the channels available on Confam and a comparison between Yanga, Confam, and Compact. So, which one are you going for? Let me know in the comment box.