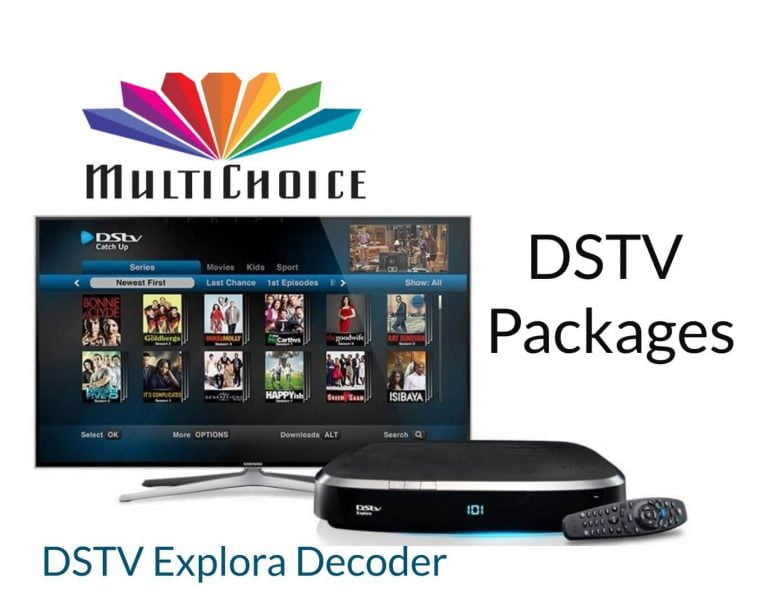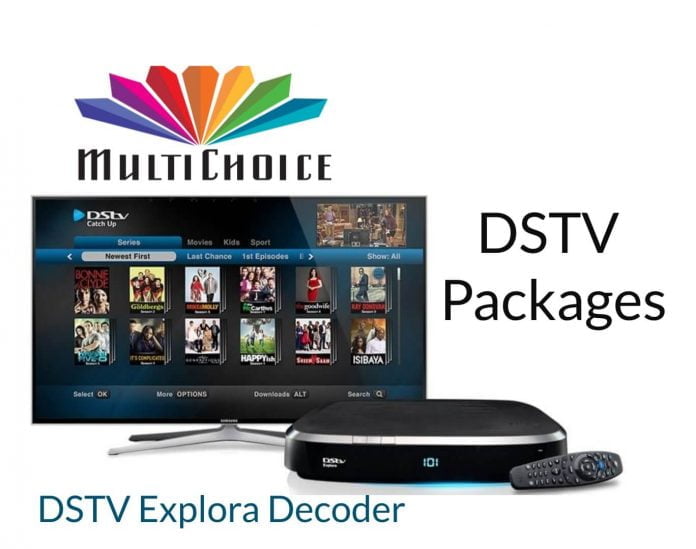 DSTV is one of the best satellite cable TV in Africa, particularly in Nigeria, and it is owned by Multichoice (the same company that owns GOTV). The services offered by DSTV include direct-to-home DTH pay-tv services and innovative services like High-Definition PVR decoders, High-Definition channels, and mobile streaming services like DSTV on the Go (formerly called DSTV Now) and ShowMax.
This article gives detailed information about all DSTV packages and comparisons to know which best fits you, review, DSTV HD PVR, decoders, HD channels, SD channels, DSTV mobile services, and prices of all the different DSTV packages.
The article contains a lot of information there is to know about DSTV; therefore, it will be lengthy. You can jump to the information you are looking for.
What you need to know about DSTV
Multichoice owns DSTV, and its services are available in over nine countries in Sub-Saharan Africa. This company runs other services like GOtv, Showmax, and DSTV Now (now DSTV on the GO).
There are currently six DSTV packages available and some add-ons like French Touch, French Plus, and Indian. We have the minimum price option, Padi, which has a good amount of Nigeria Entertainment shows, movies, and Dramas, Compact plus targeted at sports lovers, and the High-end DSTV Premium, which has all the channels DSTV offers.
In December 2019, DSTV introduced three new Bouquet, DSTV Yanga, DSTV Confam, and DSTV Padi, and later discontinued the Access and Family Bouquet. This got many users confused and annoyed because the prices of the new packages are higher, and they don't get as many channels as the discontinued channels.
In July 2020, the Nigerian Broadcasting Commission ordered the management of multichoice to reduce the cost of their packages. To achieve this, Multichoice started removing important channels from most of its packages. As cited by this company, they might stop showing soccer matches since they can't keep up with low patronage and Nigeria's degrading economy.
In 2022, the price of all the packages offered by DSTV was increased. The price increase didn't increase the number of channels you get or more value. The price increase was due to the bad economy of the country and the increase in the exchange rate in the country.
DSTV services as seen a lot of innovations like mobile services. Electricity is one major issue in Nigeria, and many subscribers are unable to enjoy their subscriptions; for this reason, mobile services are a fantastic innovation.
With the DSTV on the GO app, you can stream your favorite channels on your iOS, Android, or HarmonyOS device. All you need to do is install the app and input your details, including your smart card details. And you are good to watch all your favorite channels online at no extra charges, except for data, of course.
A good improvement in DSTV also includes online payment rather than visiting an agent. With the DSTV online subscription, you can now manage your monthly bouquet subscription. All you need is a mobile phone with access to the internet.
DSTV Decoders
To use DSTV services and receive DSTV channels, you need a satellite dish (with all the necessary kits like LNB), a DSTV decoder, an RG-6 coaxial cable, a smart card, and remote control.
Since DSTV offers pay-tv, their signals are encrypted (meaning you can't access the signal unless the provider grants you access). Therefore, you need to pay your subscription and slide your smart card in before you are granted access to decode the signal.
There are two types of decoder offered by DSTV; DSTV HD decoder and DSTV Explora decoder. The price and value you get from these decoders differ. Let me explain in detail.
DSTV Explora
The DStv Explora is more advance than the regular DSTV HD decoder. This decoder offers a better viewing experience and spots many amazing features like Internet access, DSTV catchup, and DSTV box Office.
Internet access allows you to watch high-quality HD content, and you can download this content online. You also get the Catchup feature, enabling you to watch programs you might have missed or love to watch again. Another cool feature is the BoxOffice that gives you access to blockbuster movies.
Explora comes with a built-in personal Video recording (PVR) that can combine perfectly with your zapper decoder. This makes it possible to record two channels, split your screens into two and watch two channels all at the same time.
The DStv Explora sells at around NGN 78,650, but on Jumia, it can range anywhere from NGN 80,000 to NGN 105,000, but the price varies a lot. Jumia prices are high because most sellers there include a monthly subscription of their DSTV packages.
DSTV HD Decoder
The DSTV HD Decoder helps you encrypt DSTV signals and watch live channels. With this type of decoder, you are limited to only watching channels as they are streamed life. You don't have internet access, can't replay shows, and every other cool thing the DSTV Explora can do.
DSTV Packages and prices
The cost of buying a DSTV was initially between NGN 14,900 to NGN 25,000, and the price includes complete installation equipment such as the HD decoder, cables, satellite dish + LNB, and three months subscription.
You should, however, note that the price of the packages is arranged such that the more you play, the more channels you get. Therefore, a package with a higher price gets you all the channels in the lower price package with more additional interesting channels.
Below are all the available DSTV Packages and their price;
DSTV Padi (NGN 2,150)
The DSTV Padi Bouquet is the cheapest package you can get from DSTV. This package gives you access to 45+ channels and 1 HD channel. However, most of the channels on Padi are Nigerian channels like African Magic (Yoruba, Hausa, and Igbo), Religious channels, all local channels, and a few channels from other categories.
If the only program you watch is African Dramas, then the DSTV Padi should be your pick, but you should go for Yanga or Compact if you want more channels.
DSTV Yanga (NGN 2,950)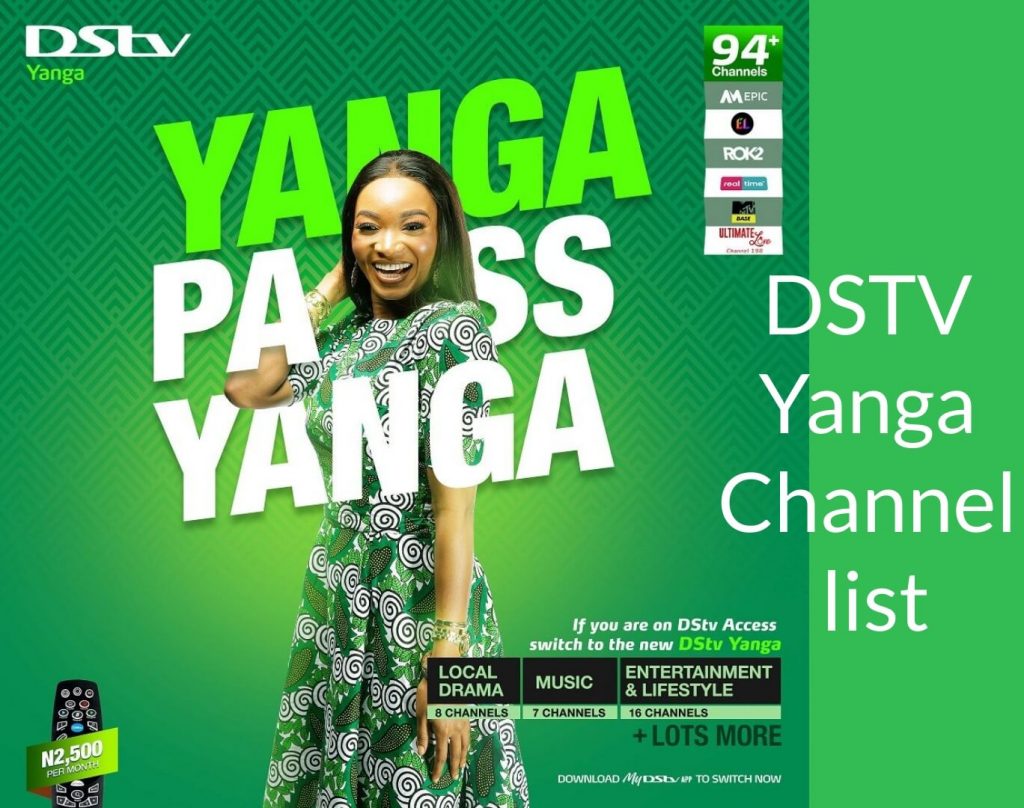 The DSTV Yanga package is the second cheapest package, with a little over 85 channels and 7 HD channels. Yanga package spots more interesting Nigeria channels like Africa Magic (Epic and Family), music channels, entertainment, international channels, and kids and teen channels like Nickelodeon and PBS kids. Disney Junior and a lot more), and many other channels.
View all the available channels on DSTV Yanga
DSTV Confam (NGN 5,300)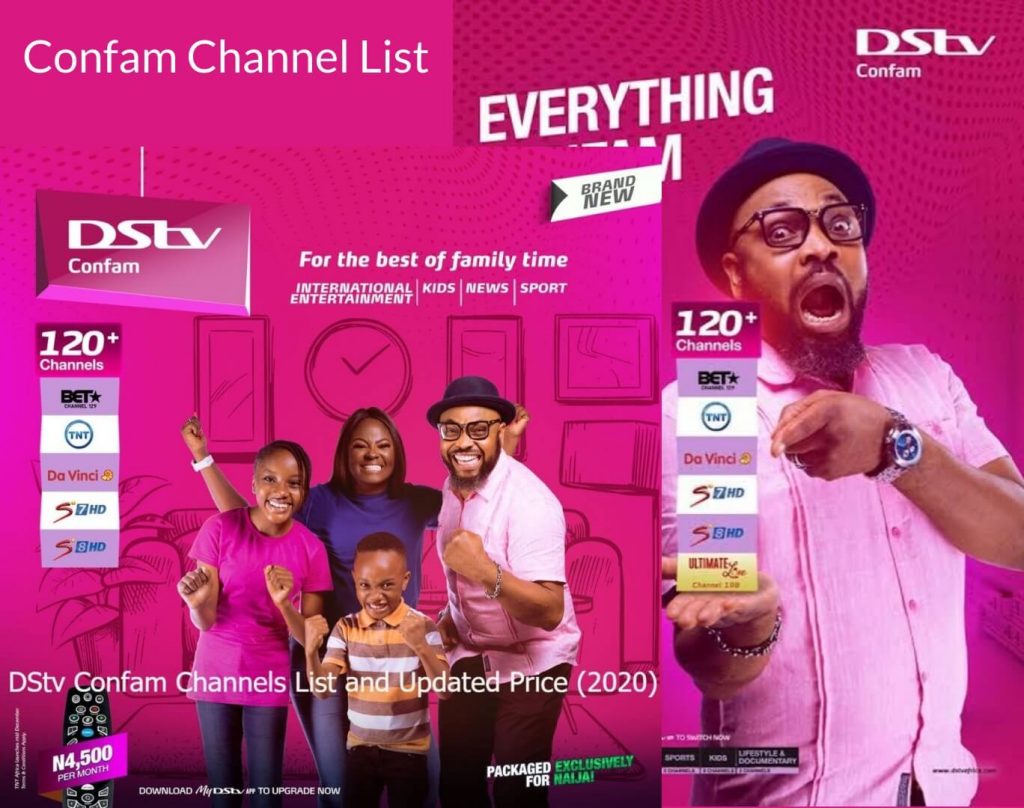 The DSTV confam is what most people choose, especially people of the mid-class. This package provides you with 105+ channels and 10 HD channels, and it includes many interesting channels.
The more exciting channels from this package are CNN, ESPN, SS LaLiga, SS football, SS variety 3 HD, FOX, CBS Reality, Universal TV, BET, BBC Lifestyle, Food Network, Cartoon Network, TNT Africa, to mention but few.
View all the available channels on DSTV Confam
DSTV Compact (NGN9,000)
The DSTV compact package usually gets you 130+ channels to watch which includes more addition to sports channels like SS Premier League, SS Variety 2 HD, WWE Channel HD, and more other channels like Sky News, Disney Channel, NickJr, ZooMoo, KIX HD, Maisha Magic East HD, Trace Mzikit and lot more.
View all the available channels on DSTV Compact
DSTV Compact Plus (NGN 14,250)
The DSTV Compact Plus Package gets you four additional sports channels (SS Blitz, SS Variety 1, SS Action, and ESPN 2). So, with this DSTV package, you get a broader interesting sports channel. You do not only get additional sports channels, but you also get a wide variety of channels, and of course, more exciting channels not found in any other package.
The DStv Compact package features 145+ channels and 30 HD channels which are almost all the channels you can get from DSTV right now. The top channels on this package are Africa Magic Showcase, 1 Magic, M-Net Movies 3, Discovery Channel HD, SS Action, CNBC Africa, Bloomberg Television, Euro News French, Euro News Germany, and a lot more.
DSTV Premium (NGN 21,000)
The DSTV Premium package offers all the channels you can get on DSTV. This is the high-end package offered by DSTV, and it cost you almost the annual price of the DSTV Padi. With this DSTV package, you are entitled to all the HD channels, SD channels, and Audio channels offered by DSTV.
This package features 160+ channels and 38 HD channels and it includes more exciting offer and TV shows.
DSTV Add-ons
Add-ons get you extra channels on top of your existing channels. If you are on DSTV premium subscription, then you don't need these add-ons since all the channels on this Bouquet are already in the premium package. The Add-ons are available just if you'd love to watch the extra channels provided by these add-ons.
Before you can subscribe to add-ons, you need an existing subscriptin. So you need to be subscribed to any package before you can purchase an add-on.
DSTV French Touch (NGN 2,650)
The French Touch comes with nine interesting channels for those that love to watch French-speaking channels. Some of the channels also have subtitles, and you get a lot of interesting channels. The 10 Channels on this Bouquet are Novelas TV, InfoSport+, French 2, A+, Trace Africa French, FRANCE 24, Planete, Teletoon+, and Piwi+.
DSTV French Plus (NGN 9,300)
This gives you even more access to French channels. It spots 15 channels; all of the channels on French Touch are also found on plus. The added channels are Canal+, Canal+ Cinema Center, Canal+ sport 2, Canal+ sport 3, TF1, and RTL 1.
Indian (NGN 7,100)
The Indian add-ons get you more Indian channels to watch. This add-on is for those who love streaming Indian channels, and they are on Yanga or Padi subscriptions. This add-on gets you four Indian channels and 15 extra TV channels.
The channels on the Indian add-on are NDTV 24X7, SET Asia, ZeeTV, SET Max, CNC World, Sunna TV, NTA 1 & 2, ONMX, TV 5 Monde Afrique, and lots more.
List of Channels on DSTV
The list below contains popular channels on DSTV, which are on the DSTV Premium package, with some of the channels in other packages.
Africa Magic (Showcase, Urban, Epic, family, Hausa, Yoruba, Igbo)
SuperSport Channels (GrandStand, Football Plus, Blitz, Premier League, La Liga, Football, Variety 1, Variety 2, Variety 3, Variety 4, Rugby, Cricket, Golf, Action, Tennis, WWE, Maximo 1, Maximo 2 Motorsport,)
WWE Channel
CNN International
BBC World News
Al Jazeera
Sky News
CGTN News
CNBC Africa
Bloomberg Television
M-Net Movies (M-Net Movies 1, M-Net Movies 2, M-Net Movies 3, M-Net Movies 4)
ROK (ROK, ROK 2, ROK GH)
B4U Movies
KIX
Studio Universe
TNT Africa
Telemundo
TLNovelas
Zee World
Star Life
EVA (EVA, EVA+)
Sound City
Hip TV
Tribe Televista
Trybe
ONMAX
VUZU
Universal TV
BBC Brit
Comedy Central
E! Entertainment
FOX
BET
MTV
Lifetime Entertainment
CBS Reality
Discovery (Discovery channel, Discovery TLC Entertainment, Discovery Family, Discovery ID)
Real-Time
CBS Justice
BBC Lifestyle
Food Network
National Geography channel
NatGeo Wild
Curiosity Channel
Spice TV
The History Channel
Euro News
Arise News
Cartoon Network
Boomerang
Nickelodeon
Disney Channel
And a lot more…
Free channels on DSTV
DSTV gives you one channel free when your subscription finishes, and that is a local free-to-air channel, NTA 2. You might find out that some channels are available at times, but they later go off gradually after a few hours.
You need to subscribe again before you can access channels on DSTV.
DSTV Installation and how to subscribe
Like we stated earlier, you need a DSTV decoder and a complete Satellite dish kit. All you need to do is to get someone that can install it for you.
When you buy a new DSTV decoder from any vendor, some of them give you up to 3 months of free subscription to any package, usually Yanga and Confam, while some do not provide you any subscription. If you are provided with a subscription, after installation, you should get DSTV channels.
If you are not subscribed, then you need to pay for the subscription. All you have to do is pay for the subscription. Payment is made through various means like mobile banking, Paga, quick teller, and many other trusted banking agents.
We recommend using quickteller. All you need is a mobile phone with access to the internet; go to quickteller.com/dstv, then fill the form. That's it to that; you should start enjoying your subscription within a few minutes.
Victor Smith wrote the post-DSTV Packages, Comparison, Review, and Prices in Nigeria, and it appears first on Vic's Guide.