Instagram is a famous social media platform for sharing exceptional experiences through photographs, videos, and stories, as we all know. Millions of people use it to stay in touch with friends, family, and coworkers worldwide.
For a better user experience, Instagram is continually altering, upgrading its algorithms, and adding new features. The Social media platform launched Instagram Direct in December 2013, which allows users to send private messages, photographs, and videos, just like Facebook Messenger.
Also, keep in mind that Instagram was never intended to be used for sending direct messages. As a result, users cannot backup messages directly from the app.
However, we've all unintentionally deleted something that we later needed. Unfortunately, this can happen to our Instagram messages from time to time. Deleting crucial messages on Instagram by accident can feel like a tragedy, especially if you know how difficult it will be to restore them.
Relax! This article will guide you on how to recover deleted Instagram messages in 2021 easily. You'll love this method if you wish to recover Instagram direct messages or restore old Instagram DMs.
Does that make sense? Let's dive in.
Read Also: How to find an Instagram account by Phone number
Is it Possible to Recover Deleted Instagram Messages?
Yes, you certainly can! But what should you do if you delete some critical direct messages from Instagram by accident?
You could try using Instagram direct message recovery software or programs but bear in mind that this is not a recommended method for recovering deleted Instagram messages. Without applying third-party services, you can recover deleted Instagram messages using the methods listed below.
How to Recover Deleted Instagram Messages
1. Recover Deleted Messages from Instagram Data
If you remove a direct message from Instagram on your Android or iPhone, it will disappear from your app but remain on the server.
To recover deleted Instagram messages, all you have to do is send Instagram a request for your account data, and your deleted messages will be returned.
Here's how to do it: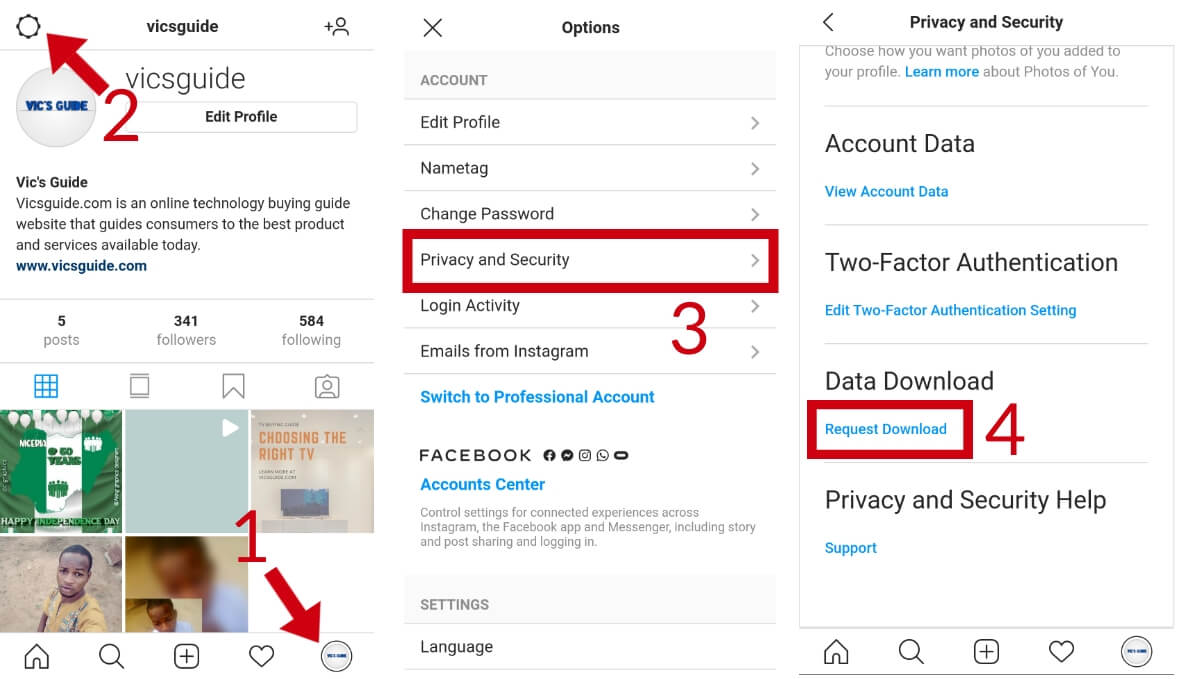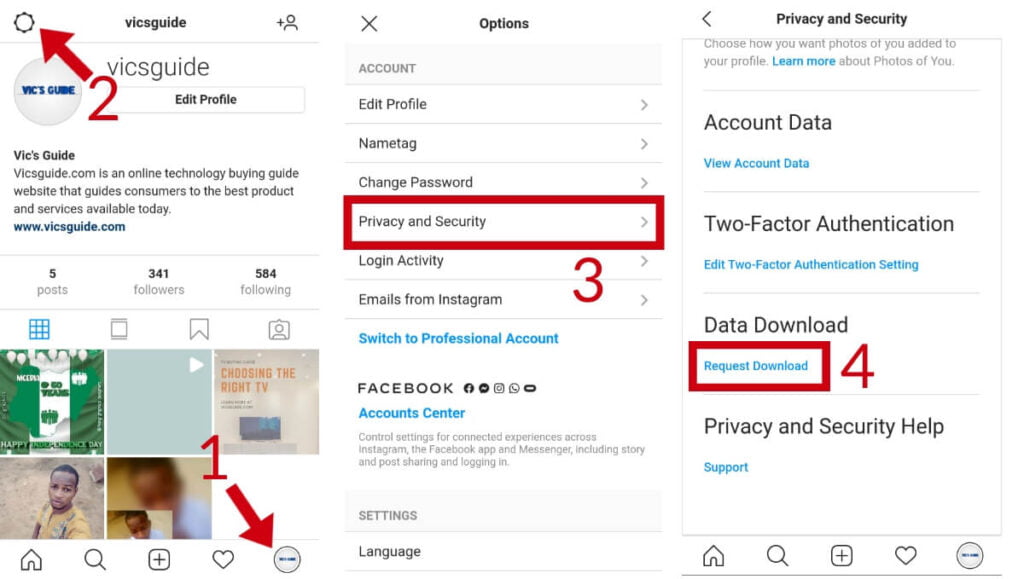 Log in to your Instagram account and open it.
At the bottom, tap the Profile icon (or your profile image).
After that, select the Settings icon found at the top right corner of the page.
Click "Privacy and Security"
Scroll down to the bottom of the page, then click "Request Download", just below "Data Download"
After that, enter your email address and press the Request Download button.
After that, select the format you want to download, either "HTML" or "JSON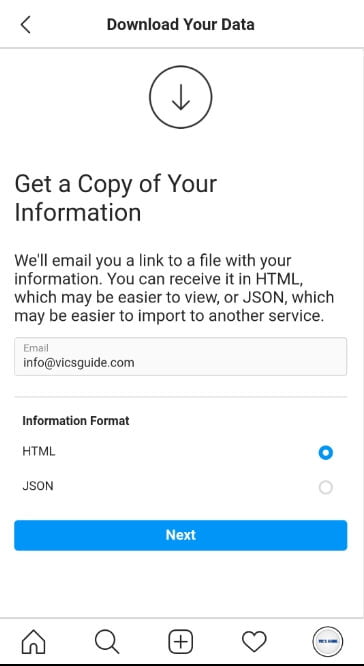 Instagram will begin compiling a file of your account as soon as you request it, and you will receive an email with a link to download your data within 48 hours. Note that you will need an additional app or software to easily view your messages if you select JSON. If you request HTML, you can view the messages from your browser.
To view deleted Instagram DMs, first, download them on your smartphone and then follow the steps in the "How to View and Restore Deleted Instagram Messages" session.
2. Recover Instagram Messages from User Whom You've Sent
When you remove Direct Messages on Instagram, you delete the chat or messages from your own account; they remain visible on the people's Instagram accounts to whom you sent them. So, if the chats or messages were not deleted from their account, the simplest way to recover deleted Instagram DMs is to ask that person to send you the chats or messages.
The aforementioned procedure will not work if the Instagram messages you sent have been deleted from the person you sent them.
3. Recover Instagram DMs with Connected Facebook Account
If you've linked your Facebook and Instagram accounts, you can view and manage your Instagram messages by accessing and going through your Facebook Inbox. Here's how to go about it:
Sign in with your Facebook account that is linked to your Instagram account on any browser by going to the Facebook webpage. Then go to Facebook and check your inbox.
Tap the Instagram Direct icon on the left menu bar to see all of your Instagram Direct messages.
How to View and Restore Deleted Instagram Messages
If you request your deleted messages from Instagram, as explained above, you need to go through some other processes to view the messages. Follow any of the processes below;
View and Restore Deleted Instagram Messages Through third party website
If you follow the steps to request and download your deleted messages above, the situation you meet may be slightly different from what I am showing you in these steps. If you use a minimal account with only a few messages, photos, and videos, Instagram will generate only one file containing all of your data.  
If you have a large account with tons of videos, photos, and messages, the chances are that Instagram will need to split all of your data into several large files. But you are not worried if you only want to recover your deleted messages. Pick only the first file because only the first file contains all of your messages.
Once you've completely downloaded the file sent by Instagram,
Go to the website InstaRecovery
Click on the square in the middle to upload your downloaded data
Wait a few moments, for the website to process your data
Once done, click on the button marked "show deleted Messages"
You should be able to see a history of your deleted conversations. That's it. But note that the websites charge you $4.99 before you can access all the conversations. But you get a free version that gives you access to the last three messages of the last three conversations. If you feel that amount is too much, follow the other procedures explained below.
View and Recover Deleted Instagram through APP
For Android Users,
install the Json Genie (Editor) app.
Extract the zip file you just downloaded.
Open the Json Genie (Editor) application.
Open the messages.json file in the Instagram data folder.
That's all there is to it; you can view all your deleted Instagram messages from the App.
For iPhone Users:
If you have an iPhone, you can see the JSON file using JSON Pro Free. Go to the Online JSON Viewer website to see the JSON file on your computer.
Final Thoughts:
You now have a better understanding of how to recover deleted Instagram messages on Android and iOS devices. We hope you enjoyed the preceding instructions for recovering deleted Instagram messages. Which method do you use to view Instagram DMs that have been deleted? Would you mind sharing your thoughts in the comments box below?
Read Also: How to Remove someone from Facebook Messenger.