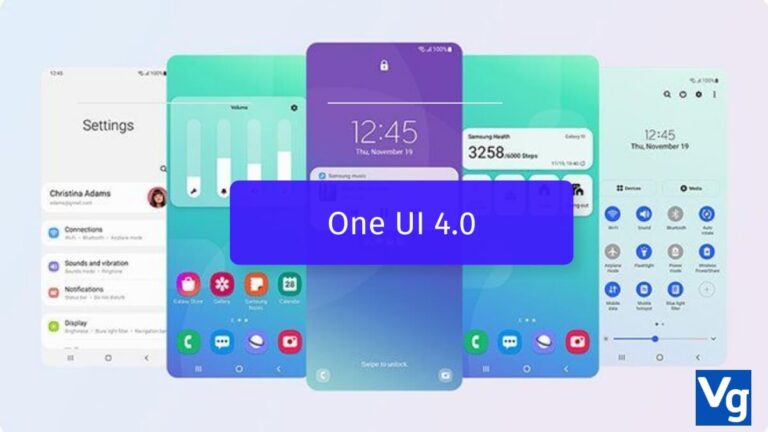 Samsung did an excellent job with the One UI 3.1 upgrade based on Android 11 to most of its phones, and with the launch of Android 12, Samsung has prepared its next significant update.
Samsung's Android 12 update is known as One UI 4.0, and it includes a slew of new features and UI revamps. This article shows you all the top features and UI changes that we get in one UI 4.0 based on Android 12.
Samsung One UI 4.0 Release Date
Samsung announced that the One UI 4 beta would begin in the "coming weeks at the end of July." On September 14, it also announced the public beta of One UI 4 for the Galaxy S21 series.
The beta is limited to the most recent Galaxy S flagship, so if you have the Galaxy S21, S21+, or S21 Ultra, you can participate in the beta and switch to One UI 4 right now. On October 5, Samsung released the second Android 12 beta, including Google's Material You's colour extractor feature and bug fixes.
The One UI 4 beta is now available in the United States, Korea, the United Kingdom, India, China, Germany, and Poland. Samsung has traditionally restricted its One UI beta program to these seven markets, which will remain the case in 2021. If you live in one of these seven countries and have an eligible device, you can enrol in the One UI 4 beta by going to the Samsung Members app.
Samsung makes the best Android phones available today, and its mid-range offerings in particular — including the Galaxy A52 and A52 5G — have stood out this year. While these devices aren't yet included in the beta, that will most likely change in the coming months.
Samsung One UI New Features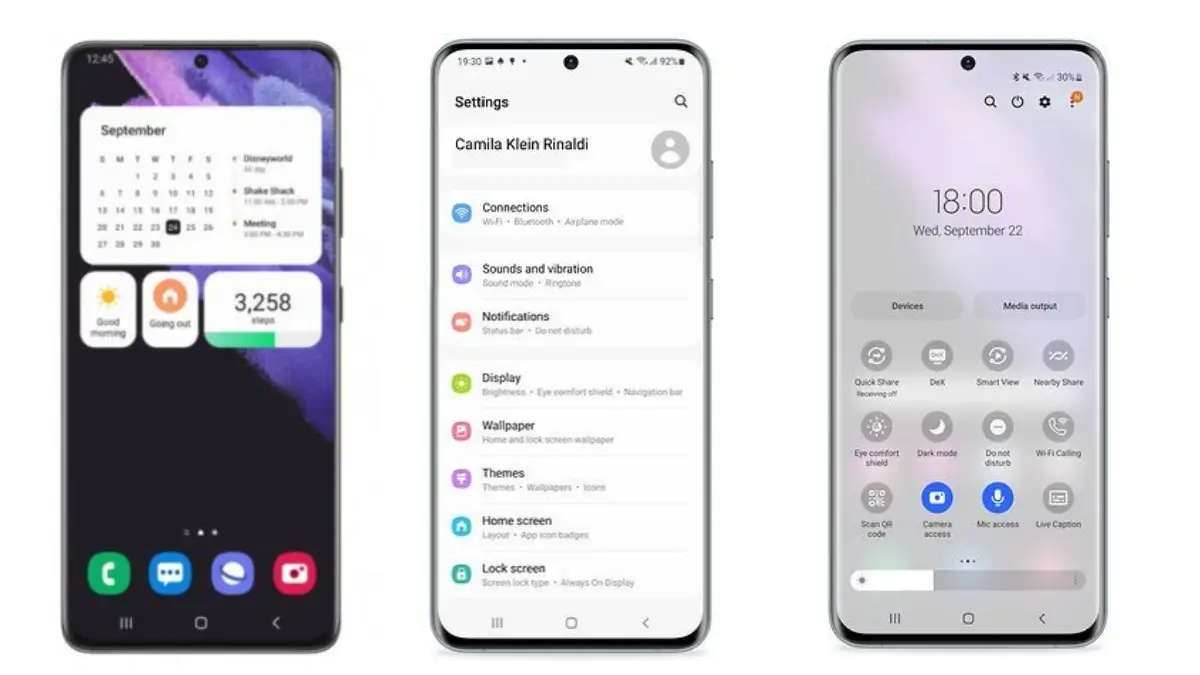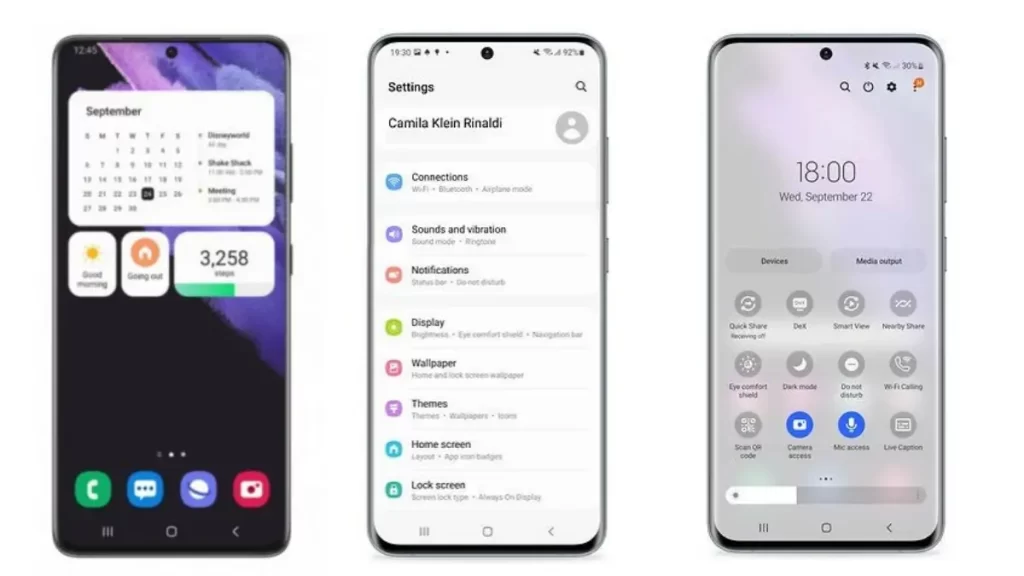 Improved Always on Display
First, let's talk about the always-on display. You get the Show for New notifications option when you go to your settings and then to the always-on display.
Once you turn it on, what it does is it only shows the always on screen when you receive any new notifications. In one UI 3.1, you don't get this option.
It's a good thing Samsung add this feature. It will save some battery as well if you are playing any music on your galaxy device.
Improved Lock Screen
Samsung has added this helpful feature that lets you switch between multiple sound output devices directly from your lock screen itself. You don't have to unlock your phone to change the sound output.
Improved Notification Panel
When you go to the notification panel, the first thing you will notice is the brightness bar. It has been redesigned, and now you can quickly swipe your fingers on it to adjust the brightness.
Apart from this, they have also added some useful toggles; the Camera and mic access. Using these toggles, you can quickly enable or disable the camera or mic access for all the applications.
We also got this useful toggle called extra dim, which dims the screen beyond the minimum brightness. I think this will be extremely useful during night times.
Improved Privacy
When you go to settings, then to privacy, here, you can check all the apps that use your phone's camera, microphone, and location access. Not only that, you can take further control and choose the applications for which you want to give access to your phone's camera and microphone.
Another privacy control feature is when any app access your device camera, mic, and even location access, you will get this indicator on the top that shows you all the information. Android 12 is all about privacy, and Samsung has added all the useful features related to privacy and security.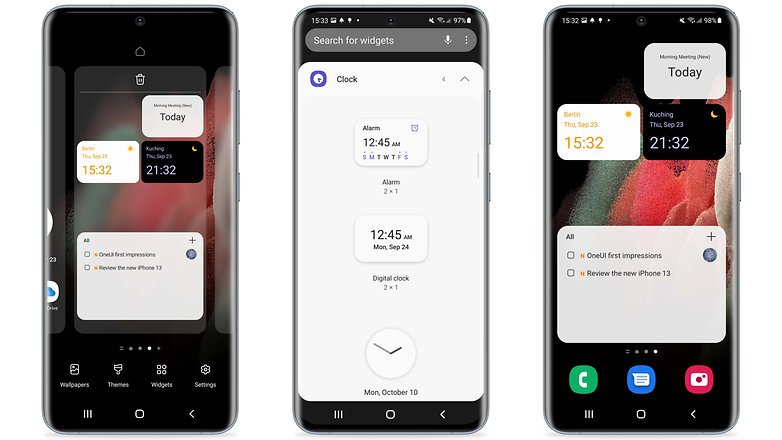 Improved Home Screen
On the home screen, we have a couple of significant changes. When you press and hold on your home screen and select widgets, you can see that the widget layout has been redesigned, and now it's easy for you to reach your Favorite widgets.
Improved Widget
I also like what Samsung did for the widgets themselves. They are more rounded, keeping the Android 12 design language and some widgets like the clock widget.
The Clock Widget shows different background colors depending on whether it's a day or a night in a country.
Overall, Samsung has enhanced the widgets, and I think they look outstanding on the Home screen.
Color Theme
One of my favorite features is the color theming. If you Long press the home screen and then go to wallpaper, we get this brand new option called color theme. It lets you choose a theme based on different colors from the wallpaper that you have applied.
Click on it and select from any of the predefined color options picked by One UI. It changes the accent color depending on the wallpaper, and I'm glad Samsung has enabled the dynamic theming support for most system applications.
For example, If you open the calculator, you will find out it adapts the new color theming option. The same thing applies to the clock phone dialer, messages, and other system applications.
Labs
If you go to settings, then to advanced settings, you have this new option called Labs. Once click on it, you will find something called multi-window for all apps. It allows you to open all the apps in a pop-up window or A split-screen view. These apps include an app that doesn't even support multi-window.
For example, if you disable this option and try to open Instagram in a pop-up window, you don't have that option because Instagram doesn't support multi-window. But now, if you enable this option and try to open Instagram in a pop-up window, you can easily do that.
The Lab is a handy feature, and it will enhance your Multitasking experience.
Improved Device Care
If you go into device care, you will notice it has been updated, and you get a fresh design where you have three different emojis on the top.
If your phone has some issues, it will show you a sad emoji, and if everything is fine, you will get the smiling emoji.
Protect Battery
If you go inside the battery and then have more battery settings, we have this new option called Protect Battery. Once you turn it on, it helps you extend your battery's lifespan by limiting the maximum charge up to 85 percent.
Whenever you charge your phone, it will charge only up to 85 to maintain the health of your battery.
RAM Plus Feature
Samsung has also added the much-awaited Ram Plus feature in the galaxy s21. Here, the virtual RAM of 4GB is provided to confirm this. Just go to your device care and then to memory, here you will notice they have added the virtual RAM of 4GB.
My device comes with 8GB of ram, but now I also have this 4GB of virtual ram, which is a great thing.
This feature is not exclusive to the Samsung s21 series of smartphones alone. Hopefully, we might see the RAM Plus feature coming in other Galaxy devices as well.
Improved Gallery
In the Samsung gallery, we have a couple of changes. First, when you open any folder, you will notice we have an album cover on the top, which is an excellent addition. You can also edit the date and time of any pictures or videos you have saved in your gallery.
Collage
Lastly, you can also create a collage by combining photos and videos.
Samsung One UI 4.0 Eligible Device
Here is a list of all devices eligible for the Samsung One UI 4.0. If there are any new devices, we will update this article.
Samsung Galaxy Z Fold 3 5G
Samsung Galaxy Z Flip 3 5G
Samsung Galaxy S21 5G
Samsung Galaxy S21+ 5G
Samsung Galaxy S21 Ultra 5G
Samsung Galaxy Note 20
Samsung Galaxy Note 20 5G
Samsung Galaxy Note 20 Ultra
Samsung Galaxy Note 20 Ultra 5G
Samsung Galaxy Z Fold 2
Samsung Galaxy Z Fold 2 5G
Samsung Galaxy Tab S7
Samsung Galaxy Tab S7 5G
Samsung Galaxy Tab S7+
Samsung Galaxy Tab S7+ 5G
Samsung Galaxy S20
Samsung Galaxy S20 5G
Samsung Galaxy S20 5G UW
Samsung Galaxy S20+
Samsung Galaxy S20+ 5G
Samsung Galaxy S20 Ultra
Samsung Galaxy S20 Ultra 5G
Samsung Galaxy S20 FE
Samsung Galaxy S20 FE 5G
Samsung Galaxy S20 FE 5G UW
Samsung Galaxy Z Flip
Samsung Galaxy Z Flip 5G
Samsung Galaxy Note 10+
Samsung Galaxy Note 10+ 5G
Samsung Galaxy Note 10
Samsung Galaxy Note 10 5G
Samsung Galaxy Fold
Samsung Galaxy Fold 5G
SamsungGalaxy S10 5G
Samsung Galaxy S10+
Samsung Galaxy S10
Samsung Galaxy S10e
Samsung Galaxy Note 10 Lite
Samsung Galaxy S10 Lite
Samsung Galaxy Tab S6 Lite
Samsung Galaxy Tab S6 5G
Samsung Galaxy Tab S6
Samsung Galaxy A71 5G
Samsung Galaxy A71
Samsung Galaxy A51 5G
Samsung Galaxy A51
Samsung Galaxy A90 5G
Galaxy F22
Galaxy M32
Galaxy A22 5G
Galaxy A22
Galaxy Tab A7 Lite
Galaxy Tab S7 FE
Galaxy F52 5G
Galaxy M42 5G
Galaxy M12
Galaxy A32 5G
Galaxy A32
Galaxy F62
Galaxy M62
Galaxy F12
Galaxy A72
Galaxy A52
Galaxy A52 5G
Galaxy Quantum 2
Final Thought
That's pretty much it. These are some of the best and useful features that have been added with one UI 4.0. If your phone is eligible for the One UI 4.0 update, then you should upgrade.