LG is the most important brand when it comes to OLED technology. Other companies, such as Sony and Vizio, sell OLED TVs, but LG is the clear leader in OLED, and the most anticipated 4K OLED TVs are all from the same manufacturer.
The LG CX was by far the best TV in 2020, but in 2021, it's got a new successor, the LG C1. So, we will compare the two OLED TV and see which is best for you.
The LG CX and C1 look very similar, with the most significant difference being a larger 83 inch variant in the C1 series, the latest version of WebOS, and the inclusion of a new 'Game Optimizer' settings. But are these upgrades sufficient to overcome the LG CX OLED TV? To help you answer this question, we've put together a detailed comparison of the LG CX and C1 TV in terms of design, built quality, display quality, performance, gaming support, and features.
Read Also: Best TV mount for LG CX and C1 OLED TVs.
Without further ado, let's dive in.
LG C1 Vs CX: Comparison Chart
Resolution
4K Ultra HD (3,840 x 2,160)
4K Ultra HD (3,840 x 2,160)
Screen Size
OLED48CXPUB (48″), OLED55CXPUA (55″), OLED65CXPUA (65″), OLED77CXPUA (77″)
OLED48C1PUB (48″), OLED55C1PUB (55″), OLED65C1PUB (65″), OLED77C1PUB (77″), OLED83C1PUA (83″)
HDR Features
Dolby Vision, HDR10, HLG, Wide Color Gamut
Dolby Vision, HDR10, HLG, Wide Color Gamut
Resolution
4K Ultra HD (3,840 x 2,160)
Screen Size
OLED48CXPUB (48″), OLED55CXPUA (55″), OLED65CXPUA (65″), OLED77CXPUA (77″)
HDR Features
Dolby Vision, HDR10, HLG, Wide Color Gamut
Resolution
4K Ultra HD (3,840 x 2,160)
Screen Size
OLED48C1PUB (48″), OLED55C1PUB (55″), OLED65C1PUB (65″), OLED77C1PUB (77″), OLED83C1PUA (83″)
HDR Features
Dolby Vision, HDR10, HLG, Wide Color Gamut
LG CX Vs C1: Price
The LG CX and LG C1 were released alongside LG's more expensive "Gallery" OLED TVs, making them the second most expensive LG OLED TVs of their years. Here's how the two series compare in terms of size and original pricing:
LG CX:
48-inch (LG OLED48CXPUB) – $1,499
55-inch (LG OLED55CXPUA) – $1,799
65-inch (LG OLED65CXPUA) – $2,799
77-inch (LG OLED77CXPUA) – $4,999
LG C1:
48-inch (LG OLED48C1PUB) – $1,499.99
55-inch (LG OLED55C1PUB) – $1,799.99
65-inch (LG OLED65C1PUB) – $2,499.99
77-inch (LG OLED77C1PUB) – $3,799.99
83-inch (LG OLED83C1PUA) – $5,999.99
LG CX Vs C1: Design Quality
In terms of design, its a draw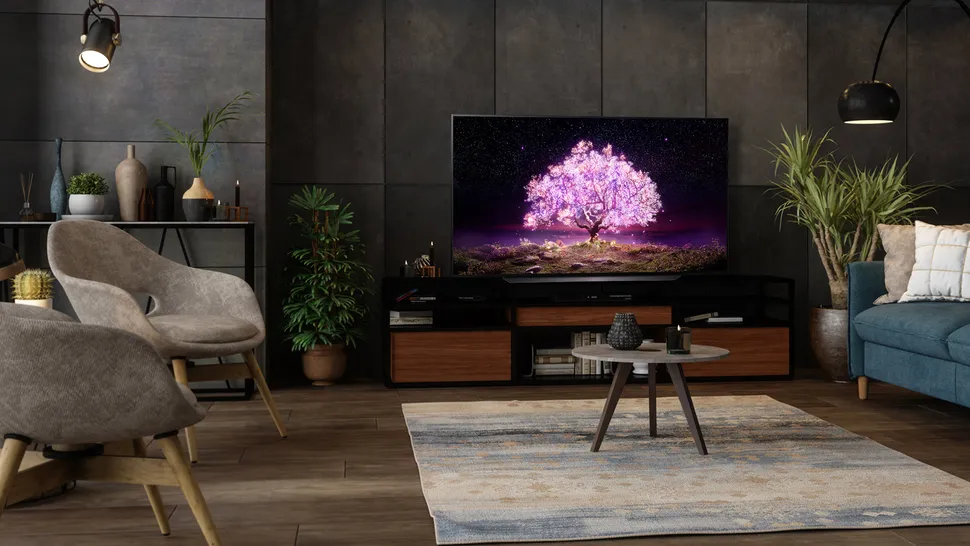 The LG CX and the LG C1 are indistinguishable from one another, but for a few tiny variances. Fortunately, the design components are superb, so no matter what, you'll receive a fantastic-looking TV.
Both TVs have the ultra-thin panels that OLEDs are known for, with a thicker chassis extending downward from the panel's middle to house the TV's internals. Both TVs have two gray tones on the back: the back of the actual display is smooth metal, while the back of the chassis is a thick plastic that has been textured to look like brushed metal.
You might find out the TV given to you has a white panel and chassis instead of the typical two-tone gray design found in the United States. Whether you choose the CX or the C1, you'll almost certainly get a black-and-gray TV if you live in North America.
The LG C1 and the LG CX have a trapezoidal stand that extends downward in front of the TV.
Both TVs use the same stand: a trapezoidal slab with a downward-angled counterweight buried behind the panel. The stand's slanted angle is intended to reflect audio toward the audience. Still, it's not the most user-friendly design for soundbar users, who will have to position their device in front of the protruding stand on their OLED.
Finally, the CX and C1 come with LG's Magic Remote in somewhat different versions (named after its motion-operated, point-and-click functionality). The CX version has a more football-like form, making it more prone to wobble on a surface, but otherwise, these clickers are nearly identical.
Overall, there are no significant variations between the CX and the C1 designs. Both of these TVs are luxurious, with razor-thin bezels at their thinnest points and a smooth appearance.
LG CX VS C1: Features
The LG C1 comes with more features than the LG CX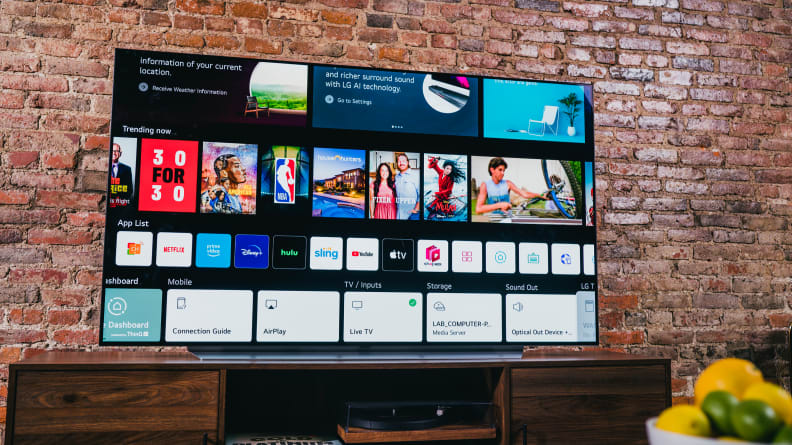 There are two significant distinctions between the CX and the C1 in terms of extra features and software that you should consider. The first concerns LG's webOS innovative platform because it's a newer T. Thee C1 comes with the most recent version of WebOS, which looks slightly different than previous versions.
Earlier versions of webOS, such as the one available on the CX, have a user interface that occupies the bottom third of the screen. This allows you to move from app to app without losing track of what you're doing. Because the newest version of webOS on the C1 uses a home screen as its main jumping-off point, most app administration takes place with the software's user interface taking up 100% of the screen. LG claims that the webOS revamp motivated by a desire to place streaming content front and center.
Overall, the latest version of WebOS is fast, simple to use, and has a wide range of apps to choose from. Unless you're already familiar with — and enthusiastic about — the original webOS experience, we think the latest version of the smart platform is preferable.
Gaming is the second most significant difference in terms of features. Both OLEDs have FreeSync, G-Sync, Auto Low Latency Mode, and four HDMI 2.1 ports that can support 4K gaming at 120 frames per second, but only the C1 has LG's Game Optimizer. This software suite organizes game-related settings in a single, easy-to-access drawer. Several genre-specific visual settings, black and white stabilizers, and options to improve motion and input lag can all be found in the Game Optimizer menu.
Both the CX and the C1 are excellent TVs for gaming on the Xbox One S and PlayStation 5, and both have excellent smart platforms, but the C1 has a little advantage in this category.
Picture Quality and Performance
The LG C1 performs better than the CX but not much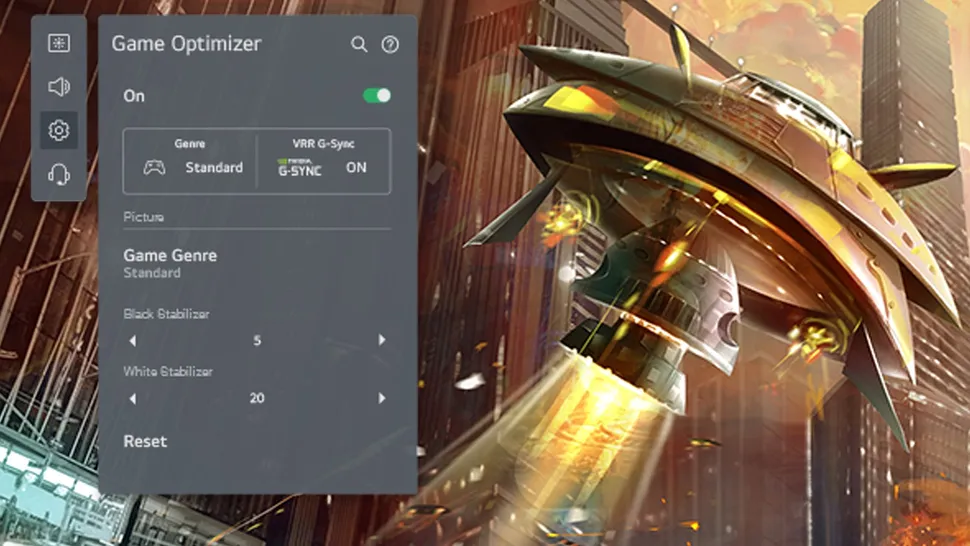 You might be wondering if the LG C1 is better than the LG CX when it comes to performance. The answer is yes, but only by a bit of margin. Unless you put the two TVs side by side, you won't observe any difference.
The C1 has a slight edge over the CX in brightness, but it's only visible while watching HDR material. On the C1, specular highlights (such as light reflecting off an automobile or flying sparks) appear stronger. The C1 also does a somewhat better job of showing the subtle gradation of shadow tones, though you'll need a trained eye to notice the difference.
Unsurprisingly, regardless of content, both OLEDs generate rich, accurate colors; they each saturate 100% of the SDR color range (Rec.709) and around 97% of the HDR color gamut (DCI-P3). With native 120Hz refresh rates and motion enhancement sliders that, when used with restraint, assist in smoothing out motion with minimal artifacts, the TVs are also neck and neck when it comes to motion handling.
When it comes to the viewing angles of these two TVs, the LG CX has a color washout, color shift, and brightness loss at 48°, 32°, 62°, respectively. The LG C1 has a color washout, color shift, and brightness loss at 57°, 30°, and 69°, respectively. Overall, the LG C1 has the upper hand in terms of viewing angles.
The LG C1 is the better-performing TV of the two in a few aspects, but the differences aren't significant enough to notice for most people.
LG C1 OLED vs. LG CX OLED: Audio Comparison
The LG C1 OLED's audio improvements come from the Qualcomm Snapdragon 9 Gen 4 CPU. Both sets have a pair of downward-firing speakers and two woofers, with a total output of 40 Watts. The LG C1, on the other hand, claims to employ AI to provide more immersive audio experiences by better detecting the type of audio content being played.
LG C1 Vs LG CX OLED: Smart features and interface
LG employs a proprietary interface with its Magic Remote, which was updated this year with NFC capabilities and multiple dedicated launch buttons, rather than using a third-party smart TV platform like Roku TV or Android TV.
LG webOS has long been a capable smart tv platform that allows you to access your favorite streaming services, whether you want to watch Disney Plus with the kids, see Thursday Night Football on Prime Video, or have cut the cord with Sling TV. There are also a lot of music channels available on the OS.
Both LG OLED TVs have on-board Alexa and Google Assistant for voice requests, whether they're for TV content or smart home control. You can't go wrong with either of these TVs if you have a smart home.
The LG C1 OLED, on the other hand, has a newer version of WebOS (webOS 6.0) with a hub-like navigation mechanism that replaces the CX interface's basic tiles in a hidden bottom row. I'd look at photographs of both webOS 5.0 and webOS 6.0 to see if there's a visual preference for one setup over the other.
LG CX Vs C1: Verdict
Buy the LG CX if the minor upgrades are not necessary to you.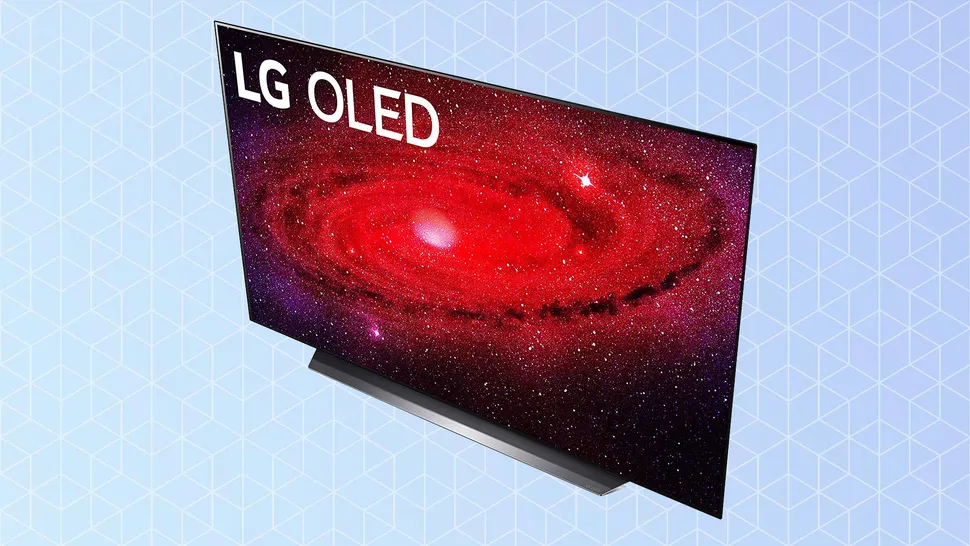 The LG C1 OLED succeeds the LG CX OLED, and the two televisions are pretty identical. The key differences are that the C1 has a more prominent 83-inch display, runs the most recent version of WebOS, and has new 'Game Optimizer' settings, such as an input lag boost that lowers input lag by a few milliseconds.
Compared to the CX, the C1 has poor out-of-the-box color accuracy and lower brightness, although this could be due to panel differences.
If you already own the LG CX TV, you don't need to upgrade to the C1 since they are very similar. Overall, if none of the minor upgrades are essential to you, the CX may be a better value.
Last update on 2023-10-02 / Affiliate links / Images from Amazon Product Advertising API