You're not alone if you're having trouble deciding which Apple Watch series 7 size to purchase. It should be a simple selection with only two sizes to choose from and only a 4mm variation between them — but they're different enough to require further thought. We've compiled a list of variables to help you determine whether the Apple Watch Series 7 41mm or 45mm apple watch series 7 is suitable for you. Our Apple Watch Series 7 41mm vs. 45mm will come in handy if you plan to buy the Series 7 watch.
Apple Watch Series 7 41mm Vs 45mm: Comparison Chart
42 mm
45 mm
Price
Check Price on
Amazon
Check Price on
Amazon
Height
Weight
42.3 g
51.5 g
Resolution
352 x 430 pixels
396 x 484 pixels 
Total Display Area
904 sq mm
1143 sq mm
Weight (Aluminum, GPS only)
32.0 grams
38.8 grams
Weight (Aluminum, GPS + Cellular)
33.0 grams
40.5 grams
Weight (titanium)
Weight (Stainless Steel)
42.3 grams
51.5 grams 
Battery Life
20 hours
20% faster
Apple Watch Series 7 41mm Vs 45mm: Wrist Size
If you have a very little or very large wrist, your decision may have already been determined for you.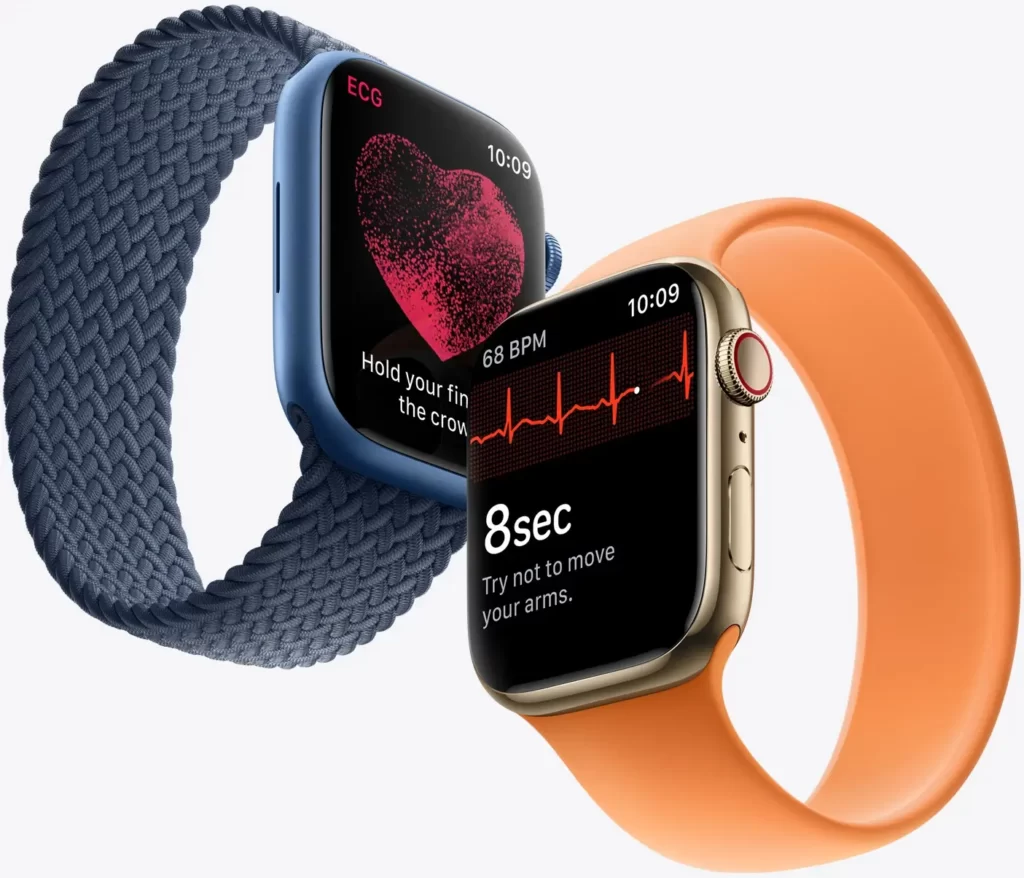 Everyone's wrists are of different sizes. People may advise you to acquire the larger size if you're a guy and the smaller size if you're a lady, but this is too simplistic and stereotypical. Regardless of your gender, you should pick the one that best fits you. The circumference of your wrist is a crucial impact here.
Consider that the 45mm Apple Watch's bands are significantly longer than the 41mm Apple Watch's. Those with broader wrists may struggle to clasp the 41mm, while those with narrower arms may find the 45mm too cumbersome. Here's an Apple Watch Sizing Guide to help you figure out which size and strap style will work best for you.
Of course, you should try on both sizes and various bands to determine how comfortable they are on your wrist. Almost often, one of them will feel and appear better than the other.
Apple Watch Series 7 41mm Vs 45mm: Screen size
The larger the screen size, the easier it is to view and use.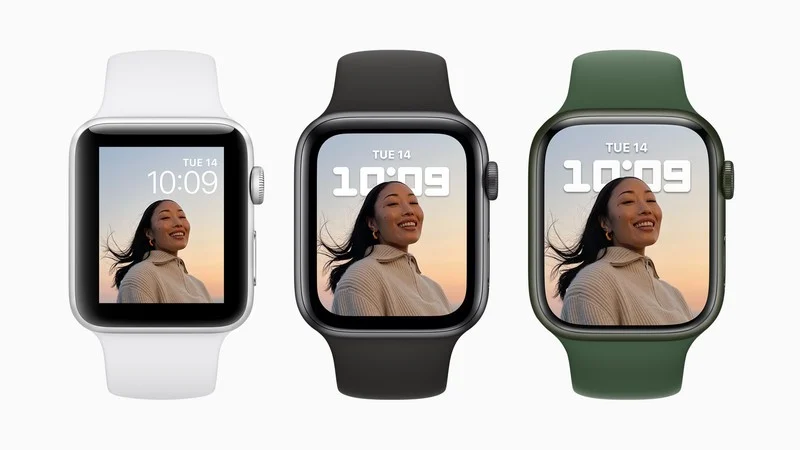 Larger touchscreens are just easier to operate because standard phone screen sizes are becoming bigger and bigger. Smaller touchscreens make it more difficult to be precise. Therefore those with thicker fingers will benefit from a larger screen.
Apple also created many Apple Watch apps for the 45mm version, and you'll notice the text has been resized in the form of clipped and hyphenated words to fit in the 41mm version. Keep in mind, though, that you will not engage with your smartwatch as much as you will with your phone. It's usually used as a backup device for fitness tracking and app notifications.
Overall, the 41mm's smaller screen doesn't impair your ability to see the interface or read text, and you'll probably prefer to scroll using the rotating crown anyway.
Apple Watch Series 7 41mm Vs 45mm: Device Weight
The Apple Watch 41mm is slimmer and more comfortable on the wrist.
For people accustomed to wearing watches, the Apple Watch's weight may not be an issue. Otherwise, you could find it difficult to adjust to the additional pull on your wrist. The 45mm is much heavier, especially with the stainless steel finish, so size matters in this scenario.
If you're looking for a casual Apple Watch, the 41mm version with an aluminum finish will be more comfortable on your wrist. Because you'll be wearing your smartwatch all day, this is a more significant consideration for wearables than it is for smartphones. It's also why Apple decided to provide a variety of sizes and finishes to begin with.
41mm Apple Watch Series 7 weight:
32.0 grams for aluminum finish
42.3 grams for stainless steel finish
37.0 grams for titanium finish
45mm Apple Watch Series 7 weight:
38.8 grams for aluminum finish
51.5 grams for stainless steel finish
45.1 grams for titanium finish
Apple Watch Series 7 41mm Vs 45mm: Battery Life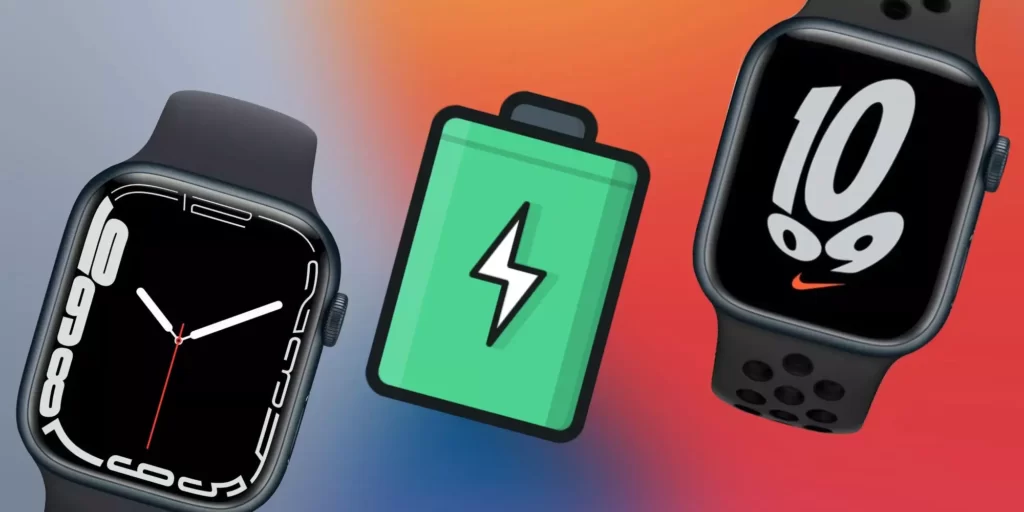 The Apple Watch 45mm features a little larger battery, which means it will last somewhat longer.
The battery in the 45mm variant is around 20% to 25% larger than the battery in the 41mm version. But, in terms of practical application, what does this mean?
According to extensive testing, the larger battery lasts 20 to 25% longer than the smaller one. This is especially critical if you plan to utilize the LTE-enabled Apple Watch's cellular features all day. A larger battery will give you more peace of mind if you wish to leave your iPhone at home and merely wear a wearable while running or working out, especially if your sessions are 2 to 3 hours long.
However, if you plan on keeping your phone with you throughout that time, the smaller 41mm would suffice and will last the entire day.
Apple Watch Series 7 41mm Vs 45mm: Which should you Buy?
Select the size that best fits and feels on your wrist.
The Apple Watch Series 7 41mm and Apple Watch Series 7 45mm are sufficiently distinct from one another that you should examine which one best suits your needs.
Most of the time, the size of your wrist will be the most crucial factor since one watch size will appear more likable and feel more comfortable than the other. However, if you plan to use this watch to track your fitness and health, a bigger battery will be necessary.
We strongly advise you to visit an Apple shop in person and try both sizes for comparison, so you can feel how they feel on your wrist. If you can't, keep in mind why you're getting an Apple Watch, and don't let popular opinion influence your decision.
FAQs

Is there a significant difference between the Apple Watch 41mm and Apple Watch 45mm?
Yes, there are enough differences between the 41mm and 45mm Apple Watch Series 7 versions to warrant additional examination. The 41mm model has a smaller 1.7-inch display with 352 x 430 pixels resolution than the 45mm model, which has a 1.9-inch display with 396 x 484 pixels resolution. As a result, the 45mm Apple Watch is easier to read on. Furthermore, it boasts a 20% longer battery life than the smaller Apple Watch 41mm. The 41mm model, on the other hand, will feel substantially lighter on your wrist.
Is the Apple Watch 41mm too small for a man?
No, it is entirely dependent on the size of your wrist and your tastes. Some men may have smaller wrists than usual and will find the Apple Watch 38mm to be the ideal size.
Is a 45mm Apple Watch too large for a woman's wrist?
The Apple Watch does not come in different sizes for men and women. The 41mm and 45mm Apple Watch versions 7 are designed to provide the best sizing alternatives for different wrist circumferences and personal preferences. In summary, if you prefer or it better fits you, you can wear the Apple Watch 45mm.
Is it worthwhile to get an Apple Watch 7?
The Apple Watch Series 7 is still a viable wearable option, thanks to recent price decreases. Even in 2021, it will undoubtedly be one of the greatest GPS smartwatches available for the money. Its outstanding range and amount of fitness and health tracking capabilities, as well as its fashionable appearance, make it well worth the present price tag.