For the longest time, the Samsung T5 has been the go-to portable SSD drive for many people, including creators but is there a new sheriff in town?
Samsung released the Samsung T7 and T7 touch at Q2 in 2020. Is this new device better than its predecessor? We will get to know in this comparison.
Our Samsung T5 vs. T7 touch portable SSD drives comparison should come in handy if you're considering an upgrade or if you're deciding between the two popular portable SSD drives.
Read Also: Samsung One UI 4.0 best Features.
Samsung T5 Vs T7: Price
The Samsung T5 is now available for $87.99 on Amazon, Walmart, and B&H. Amazon has the T7 Touch for $149.99, the non-touch for $139.99, and B&H has it for $169.99. So, wherever you like to shop, the prices aren't that different.
Samsung T5 Vs T7: Storage size
The available storage sizes for the Samsung T5 are 250GB, and 500GB, available in attractive blue color and 1TB and 2TB are available in deep black. The Samsung T7 has a storage of 500GB, 1TB, and 2TB, all available in indigo, titan black, and metallic red.
Samsung T5 Vs T7: Design
The Samsung T5 has probably been the most popular portable SSD of the last couple of years, and there's a couple of good reasons for that. First is its design; the Samsung T5 is a very sleek-looking drive that fits the same aesthetic as you would get from a company like Apple.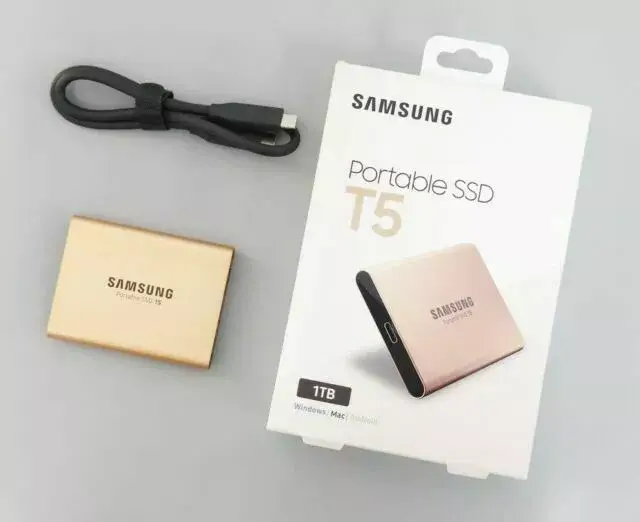 The Samsung T5 is tiny, super light, and comes in at 51 grams, and its aluminum housing is only slightly taller and a little narrower than a credit card. This makes it ultra-portable you can easily stack it in your pocket or keep it in a tech pouch and your other tech essentials.
The Samsung T7, on the other hand, the entire exterior comprises aluminum from every angle, whereas the T5 features black plastic on two of its sides. In addition, the Samsung T7 Touch is somewhat longer than the T5. With only black and silver as color options, Samsung T7 Touch is equally uninspiring. A USB-C to USB-C connection and a USB-C to USB 3 cable are included with the T7 Touch.
Right out of the box, the Samsung T7 looks and feels quite similar to the original T5. It is a little taller and a little wider but also a lot thinner and weighs 58 grams. It's only 7 grams heavier than its predecessor, which is negligible.
The touch version has a little square on the front, which is a fingerprint scanner. You can also buy it without the scanner, and it will be a little bit cheaper. But you've got an extra layer of security.
Samsung T5 Vs T7: Performance
This drive is popularly known for its speed and its durability. You can drop this portable drive a few times without fear of immediately breaking it, and more importantly, it's fast. It's fast enough to edit videos straight off the drive. You don't have to transfer the files to your computer first, which will save you a lot of time.
I work on a MacBook Pro, and buying internal storage directly from Apple is crazy expensive, so using an external SSD like this means you can buy the internal storage you need and use these SSD drives for everything else.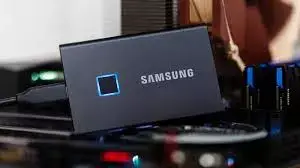 The Samsung T7 Touch uses a USB 3.2 Gen 2 port. To clarify, the T5 can reach rates of up to 550 MB/s, and it uses USB 3.1 Gen 2.
The Samsung T7 Touch can perform almost twice as much because of its USB 3.2 Gen 2 interface. The issue is that many older laptops, and even some newer ones, do not support USB 3.2 Gen 2. As a result, you must use caution because if your computer doesn't meet those exact requirements, it won't use the maximum speed.
The Samsung T7 Touch will also be limited to USB 3 speeds if you utilize the USB-C to USB 3 connector. However, if you have the right interface, you'll be able to edit videos directly from the hard disk. You won't have any stuttering or unusual hangs either.
Overall, the Samsung T7 is almost twice faster than the Samsung T5 if your laptop meets the requirement. For most laptops, you won't see any difference.
Samsung T5 VS T7: Fingerprint
Let's move on to the fingerprint reader, which is a lovely touch. Connect the SSD to your Mac or PC, install the Samsung software, and create a password and a fingerprint. You'll also receive app updates whenever Samsung decides to do so.
When the SSD is plugged in, the fingerprint reader illuminates, when you're reading or writing files, the light circles around the fingerprint reader, which looks incredibly cool and futuristic.
Conclusion
So, is the Samsung T7 worth the extra 20 bucks? For me, it's a no-brainer because the speed boost I get from the additional 20 bucks is very significant. If you already own a Samsung T5 or a SanDisk and haven't run into any speed issues yet, stick with that one. If you don't own an external drive yet and try to decide which one to get, I would recommend getting the T7 if you can afford it.