It's no longer news that TikTok is a fast-growing social media platform. According to digital analytics company App Annie, TikTok was the world's most downloaded app in 2020 as it took the top spot from Facebook Messenger.
TikTok (known initially as musical.ly) is a social media platform that allows users to share user-generated videos, which feature people lip-syncing to popular songs. Users can lip-synch, sing, dance, or talk in their videos, which they can then upload.
The variety of effects and filters you may apply to these videos makes them appealing. If you've used the app before, you'll know that the number of filters available is nearly infinite. This makes deciding which one will work best for your video quite challenging.
We'll go over how to remove TikTok filters you don't like and prioritize the ones you use the most in this article!
See Also:
What are TikTok Filters?
A filter is a software program that alters the shades and colors of pixels to affect the appearance of an image or a portion of an image. Filters enhance the brightness and contrast of a photograph and add a range of textures, tones, and unique effects.
Beautiful photos, logos, icons, and emoticons can be utilized as filters to bring interesting effects to your videos. As a result, TikTok accounts frequently come with filters that can be downloaded and used immediately.
How to remove filters from TikTok Videos
Before sharing a TikTok video, you can add and remove filters from the video. Unfortunately, therefore, once you publish the video, you cannot edit it. So, if you're wondering how to remove the TikTok filter from your video, only you can.
Method 1: Remove Filters added after Recording
If you've just recorded the video, removing filters is easy. You might have prioritized some filters or mistakenly added a filter and want to remove it. All you have to do is follow this process;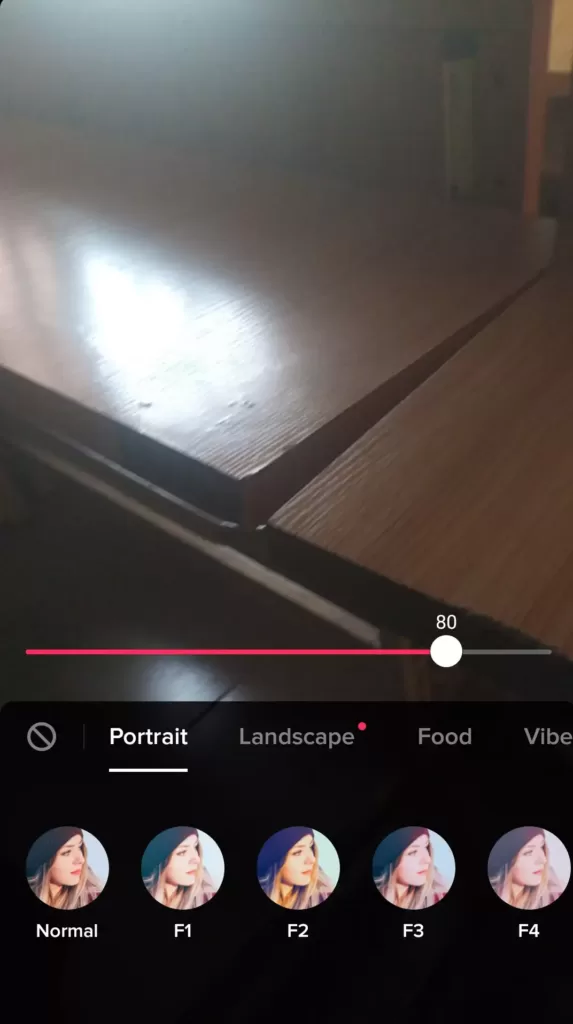 Tap the Filters tab from the left panel while recording a video.
A list of filters will appear. To remove all applied filters from the video, tap Portrait.
Finally, tap Normal.
With this method, you will successfully remove all filters you added to the video, and you can now start the editing over again. Also, you can remove filters added to the video when recording it with this process.
Method 2: Remove Filters from Draft Videos
If the video is saved to draft, you can as well easily remove filters. Follow this process to remove Tiktok filters from a video in the draft.
On your smartphone, open the TikTok app.
From the bottom-right corner of the screen, tap the profile icon.
Select the video you want to modify from your Drafts folder.
To access the editing options, tap the Back arrow in the top-left corner of the screen.
From the panel at the bottom of your screen, select Effects.
To undo all of the filters you've applied to the video, press the Back Arrow button.
To save your changes, press the Next button.
Tap the None icon to eliminate effects from your TikTok video, as seen below.
If you've applied multiple filters to your TikTok video, keep hitting the reverse icon to erase all of them.
Finally, hit Save to undo the filters that have been applied.
How to Manage Tiktok Filters
Because TikTok has many filters, finding the one you want can be tedious and time-consuming. While we appreciate the variety of options, most people only utilize a few filters regularly. TikTok allows you to customize your Filters tab to show only the filters you want to see. Follow this process to manage your Tiktok Filters to suit your taste:
From the home screen, open TikTok and press the Add symbol.
You can find filters in the panel on the left side of the screen. Swipe the menu to the left after tapping Filters to go to management.
Select the filters you want to use and mark them as favorites by checking the boxes next.
Uncheck all the filters under portrait, landscape, cuisine, and vibe you don't need.
Finally, touch the back button once the filters have been removed.
TikTok Filter Remover
There is no TikTok filter Remover, which means you cannot remove filters from TikTok after it has been published, and there is no third-party app for doing that.
Is it possible to remove the Invisible Filter on TikTok Videos?
You cannot remove the invisible filter on any downloaded TikTok videos or any videos of yours published already. As a result, once the video has been shared, there is no way to remove it. Several YouTube videos claim to have the answer, but none of them are correct.
Summary
Before uploading a TikTok video, you can quickly remove the filter. First, go to the TikTok app and press the Drafts> Filters > Undo icon to remove the filter.
Remember that after you've posted a TikTok video or shared it on another social media network, you won't be able to remove the filter.