Samsung officially announced the Samsung Galaxy Z-fold 3 in August 2021, and I spent some time with it. This Samsung Galaxy Z fold 3 review shows you how easily the most fantastic foldable phone ever made with features that will make you want to take your current phone and burn it and how it doesn't make sense.
Overview
Price and Released Date
The Samsung Galaxy Fold 3 was officially announced on August 27. Some users were able to pre-order it before it was finally made available to the public later. Those who could pre-order receive $200 in Samsung.com credit and 12 months of complimentary Samsung Care+ when they sign up for a three-year contract.
The Galaxy Z Fold 3 starts at $1,799 for the 256GB variant which is equivalent to NGN 1,550,000 in Nigeria and $1,899 for the 512GB model, equivalent to NGN 1,620,000 in Nigeria.
Key Features
Released Date – August 27
Network – 2G / 3G / 4G / 5G
Display – 7.6 inches Dynamic AMOLED display, 6.2 inches (Cover display)
Resolution – 1768 x 2208 pixels, 832 x 2268 (cover display)
CPU – Snapdragon 888 5G (5 nm)
GPU – Adreno 660
OS – Android 11, One UI 3.1.1
Memory – 12GB RAM, 256GB
Main Camera – Triple: 12MP + 12MP + 12MP
Selfie Camera – 4MP under display and 10MP cover Camera
Sound – Stereo speakers
Battery – Li-Po 4400 mAh, 25W charging and 11W wireless charging
Design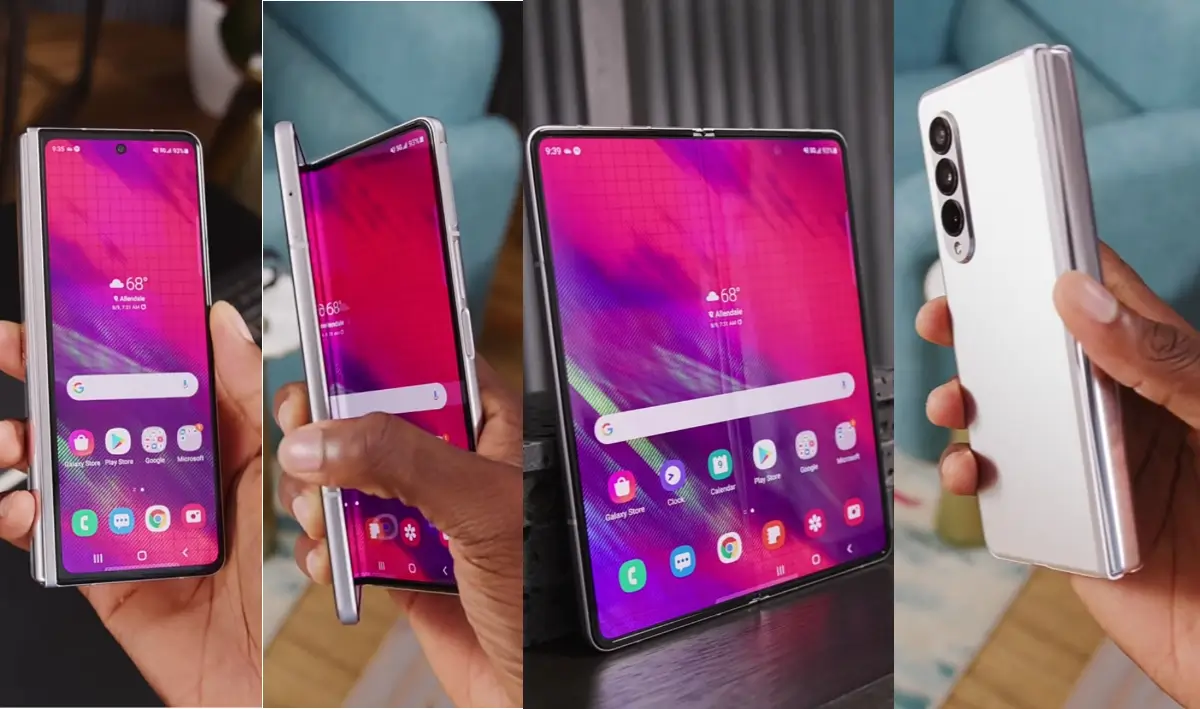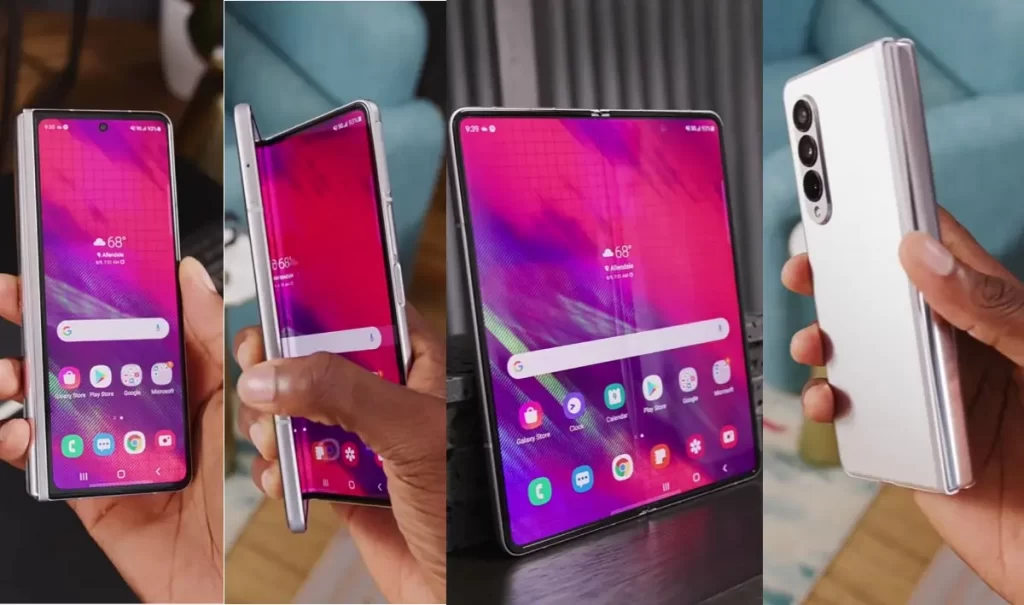 It might look familiar, but this phone is smaller from almost every dimension and a whole 11 grams lighter. It supports two sim cards instead of one, and all metal on the outside is now made of a new alloy called armor aluminum. Samsung is saying that this is the most robust material to ever go on a phone. Every hinge movement has been reinforced for snappiness and rigidity. I'm impressed by how much it feels like a proper tablet.
When unfolded, it's the only foldable in the world to have proper water resistance, which is especially impressive given that here you've got to worry about not just two separate halves but a hinge that is Purpose-built to have a gap in it.
The front and back are now both covered in Gorilla Glass Victus, the most rigid glass yet, and the inside panel has a new structure paired with a protective film that will bring an 80-durability improvement fair play. The 80 number is a best-case scenario, but even then, it's pretty clear that this design concept, the whole small screen on the front and main screen on the inside format, has been somewhat mastered.
I think they've lost a bit of character compared to the S21 Ultra; this design is such a statement that looks generic but do you know what, it's a folding phone; it's got enough character.
Read Also: Samsung Galaxy A21s Review
Display
The Samsung Galaxy Z Fold 3 is arguably the most advanced display setup you can get on a smartphone. Two panels, a 6.2-inch cover screen, and a 7.6-inch infinity flex screen, both sporting a dynamic AMOLED 2x panels with a 120HZ refresh rate. Compared to last year, the inside display now has its selfie camera hidden under the screen, and it's now 29X brighter, given that brightness was pretty much the only saw point with the Galaxy Fold 2 Screen.
There's not much to complain about here. The hidden camera is not exactly invisible, it's obvious when you're looking for it, but it blends just enough into what you're looking at. Providing it's in your peripheral vision, you can trick yourself into thinking this is just one uninterrupted screen.
It's a perfect panel, and I think it takes using it in person to fully clock the novelty of having that in a form factor that can fit in your pocket.
Hardware and Performance
The Samsung Galaxy Z Fold 3 is powered by 12GB of RAM by default, 256 GB of fast storage on the base model, and a Snapdragon 888 chip. It comes in another variant with 12GB of RAM and 512GB of fast storage.
A cutting-edge device of the Samsung Galaxy Z Fold 3's caliber necessitates a high-end chipset. It simply appears to be the most natural fit. When you pay $1700 or more for a phone, you expect the best. This was the case with the Z Fold 2, and it is also the case with the Z Fold 3.
Following its predecessor's footsteps, the Samsung Galaxy Z Fold 3 has only one chipset option – the Snapdragon 888 – in every market. Exynos has no variant.
Short of the Snapdragon 888+, this is pretty much the cream of the crop Qualcomm has to offer right now – one prime Kryo 680 core running at up to 2.84 GHz, three more "big" Kryo 680 cores running at up to 2.42 GHz, and four "small" Kryo 680 cores running at up to 1.8 GHz.
An Adreno 660 GPU and a comprehensive range of really modern connectivity choices, including 5G support for both Sub-6 and mmWave, Wi-Fi 6, and Bluetooth 5.2, are also included in the chipset. The Samsung Galaxy Z Fold 3 is available with 256GB or 512GB of UFS 3.1 storage. We have a smaller model. Both come with 12GB of RAM.
It's a pretty impressive arrangement, but there's one huge drawback: heat management. The unpleasant reality is that like its predecessor, the Z Fold 3 issues heat management and quickly loses performance owing to thermal-throttling under continuous use.
The Snapdragon 888 chipset consumes a lot of power and gets very hot. Furthermore, although reaching up to 16mm in thickness when closed, the body of the Samsung Galaxy Z Fold 3 is incredibly thin, measuring only 6.4 mm on each side.
Even more svelte than last year's model. And inside that area, Samsung had to put a lot of cutting-edge gear – two different displays, two separate batteries, and three cameras, to mention but a few. There's also the large and intricate mmWave antenna configuration.
The important conclusion is that the performance curve on the Snapdragon 888 inside the Z Fold 3 is adjusted relatively conservatively. When things get hot, the chip quickly reduces its maximum CPU clocks.
This is noticeable even with consecutive benchmark runs, which made the entire benchmarking process a little more complicated because we cooled the Samsung Galaxy Z Fold 3 between each run. We also made sure to enable the Enhanced processing toggle, which Samsung has hidden away inside its battery management menu, to get the best results in busty benchmark runs. It aggressively tunes the Snapdragon 888's behavior, causing it to clock higher for more extended periods while idling.
It tweaks the Snapdragon 888's behavior a little more aggressively, allowing it to clock higher for more extended periods while sacrificing performance in the long term.
Software
The software is probably the most impressive aspect of this, more than design or screen or power. There are so many subtle improvements since the first fold that the entire narrative has changed.
This is no longer about just having a bigger screen; it's about being able to do more. Samsung's gone to great lengths both internally and with other companies like Google, Microsoft, Spotify. They make sure that when you're using this big inside screen, you're squeezing every last bit of utility out of that extra real estate news apps, show more info than ever before, YouTube displays more thumbnails.
Before you start scrolling, you can have two instances of the same app open at once. Now I love how the web browser is starting to feel like a fully-fledged computer. I love that I have space for proper tabs up top, how quickly I can open up a new account without leaving the current one, and what I respect about Samsung.
The approach here is that they know foldable phones are still new territory instead of locking down and controlling the experience. As a result, they're rather inviting their users to experiment with them. There's a group of settings called labs, where you can set how large you want the window to be for any app so that even ones that aren't optimized for the unusual aspect ratio will still work as intended.
You can configure how apps behave when it comes to multi-window multitasking, and you can even use two apps stacked on top of each other now, which is more significant than it seems. I'll give you a weird example. Whenever I play the board game scrabble where you have to make words to get points, we always use two phones to be the timer phone for each person's turn and one to check if the words we're making are actual words. With this, you could just set a timer that can sit in the corner of your screen and comfortably use the rest of the panel for that word checker.
There's too much to talk about here. There's an improved taskbar, there's flex mode that turns your one big screen into two separate screens, and there's a cover screen mirroring, which means any change you make on your inside home screen will now be mapped to the cover screen just for consistency.
They've managed to do all of this while effectively knocking off 200 pounds or Euros off the price compared to last year's. Hopefully, starting to catch my drift here; the fact that this is Samsung's third stab, but the same formula means that this is easily the greatest foldable on the market right now.
Camera
The Samsung Galaxy Z Fold 3 comes with a Triple Camera Setup with a 12MP primary camera, 12MP telephoto, and 12MP ultrawide camera. The selfie camera is a 4MP under-display camera with a 10MP under cover Camera.
The Samsung Galaxy Z Fold 3 is a phone for pros, but if you follow smartphones closely, you'll have seen that many of the most significant improvements recently have come in the form of cameras. Most phones improvement comes with super-high resolutions, large sensors, new formats of stabilization, incredible zooms, laser, autofocus, etc. All this further improvement is not included in the Z fold 3.
I'm not saying that this is a lousy camera. In the time I've played with it, it produces decent results. They've adjusted the coating on the lenses such that it allows 4% more light-in. It also has the ability of a foldable to use the rear cameras to take selfies.
These are very underrated, but the fact that this camera hardware is less capable than the base version of the Galaxy S20, a year and a half old phone that launched at half the price, doesn't exactly inspire me to recommend it.
How much would it have cost them to swap that camera system to what we have on the S21 Ultra, 40 pounds, maybe? You know that under-display camera, right? It's four megapixels, and you can tell it's noticeably less good than the standard 10 megapixels one on the cover.
Pictures taken with the selfie camera are pretty good but not impressive. Also, images taken with the inside screen camera are not pretty, and I get that this enhances the inside display quality, but we shouldn't.
Is it worth Buying?
Samsung has worked out almost every quirk. Samsung streamlined their production for lower costs, and because of that, if you're looking for a foldable phone, here is it. But You knew there was going to be a but.
I think that this phone and Samsung's foldable lineup, in general, is a bit confused. For example, Samsung is pitching this Samsung Galaxy Z-fold 3 because you can use it as a regular bar phone and open it if you need more experience.
Okay, fine, but the fact that this phone costs significantly more than the Galaxy S21 Ultra. The fact that it's got the thickness and the weight of almost two phones. It has a considerably smaller battery, and a significantly worse camera system means that when you are using this phone in its cover screen mode, you're using just an awful phone for the money. It's the equivalent of operating as a 500 mid-ranger with what can only be described as an odd aspect ratio.
The thing almost definitely does not have the battery capacity to sustain that this is a tablet-sized display with a high refresh rate and 29 more brightness than the last generation. We have a smaller battery than the bar phones like the S21 Ultra and the previous year's Z-fold 2.
The point is you can only ever use one of these screens at once, and you're making a huge compromise to have the option of being able to transition between them. I'm not even talking about this crease which probably hasn't gotten worse since the last phone, but it hasn't gotten better, or the fact that this inside screen has to be the size of two of these cover screens effectively.
It's a square, and there's still so much wasted space with media consumption. Let's not forget about the price of this one phone. You could buy a Galaxy S21 ultra which is in a lot of ways more capable, plus an iPad Galaxy buds live 100 McDonald's cheeseburgers and still have money left over.