If you are the type that loves streaming and downloading music, you will agree that popular streaming websites like Spotify, Tidal, Apple Music, Primephonic, Amazon music unlimited, Deezer, and the likes require you to pay before you can stream music. You can't download music on most of these platforms as well.
Mp3 Paw (Mp3paw) is a website that allows you to stream your favorite music for free. You won't have to pay a dime to stream music, and you can even download music for free, a feature you don't get with premium streaming websites.
The rest of this article explains everything you need to know about Mp3 Paw, how to navigate the website, and how to download music on this website.
Read Also: 10 Best free movie download sites | Goojara movie download site
About MP3Paw
As I've said earlier, MP3paw is a free music streaming website that allows you to stream your favorite music. There is no music currently available on the web you won't find on this website. If you are searching for the best free music streaming platform, MP3 Paw should be your stop.
One good thing about the website is that you will find music of high quality, just like the one you get from Spotify or Tidal. You can get access to a hi-res audio track with 24-bit/96KHz and can even go up to 24-bit/192KHz, a feature available only on Tidal.
Whether classical, POP, Rock, Jazz, Blues, Hip-hop, Folk, Country, Reggae, Music theatre, Disco, Funk, Punk, soul, Orchestra, Opera, Ambient, or Gospel music, you will find them on this website.
Visit MP3Paw here
MP3Paw App
Just like any music streaming platform, MP3 Paw provides you with an app to stream and download music for free. The app is easy to navigate, and you get to stream the latest music directly from the app without visiting the website.
The app has a 4.4 star on the Google Play Store with over 5,000 downloads at the time of writing. However, the app is not available on the Apple store. iPhone users can only use the website to stream music.
MP3 Paw Features
Unlike premium music streaming sites, MP3 Paw is not categorized into different categories or genres. You don't have the option of choosing from the letters A-Z as well. When you visit the website, the only thing you see is the website's logo, a search bar, and around 30 latest music: no menus, no categories, no sorting of music, no genres, and all that.
Search functionality
What the website does give you is the search functionality. The search bar allows you to search for any music on your mind. The search bar functionality is improved. All you need to type is the initial letters of the music you are searching for; you will see a list of music you are searching for immediately, just like Google searches.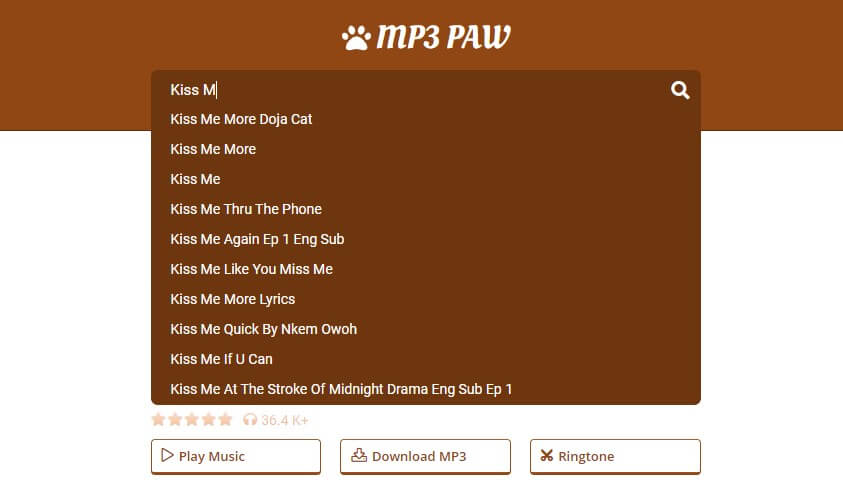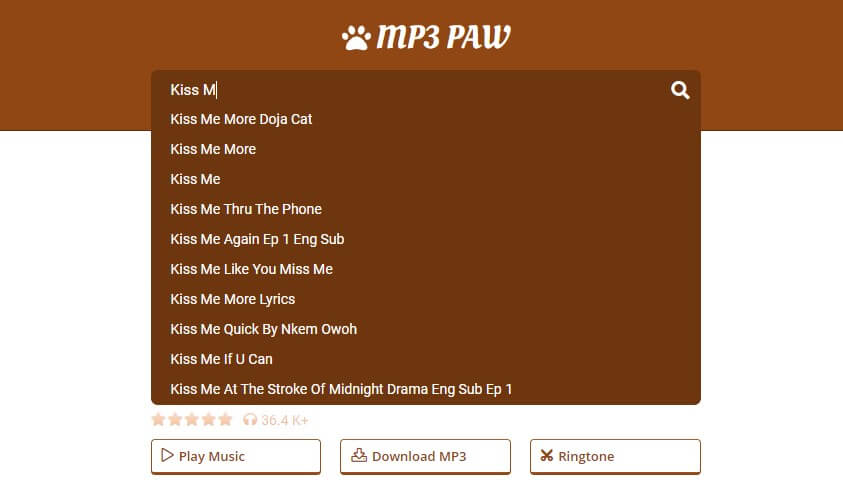 Play Music
When you search for a piece of music, you are given many options to play from. The music at the top is the official music and always ends with "Official Audio." You also get to play some other similar ones like a remix, duet, or cover.
Download MP3
This is a feature everybody loves about MP3 Paw. You can actually download any music on this platform and play them with your favorite music player.
Ringtone
If you love a part of a piece of music and you'd love to use it as your phone's ringtone, MP3paw allows you to do that. You can cut a part of a piece of music and download it on MP3 Paw.
Is Mp3Paw Safe
Is MP3 Paw safe? This is the question that comes to most people's minds when they hear of any platform offering premium content for free. Since the music offered by these free streaming websites is gotten at a price from a well-established company or website, you already know the answer to this question.
No, any website offering content without legal permission from the owners is dimmed illegal. This website does not have the license to publish the content they are offering, and they have bridged the original publisher's copyright terms.
The legal way to stream music online is to pay for them at popular streaming sites like Amazon music unlimited, Tidal, Spotify, Pandora, and many other legal websites.
Another thing to note about the website is the kind of ads on the website. However, the ads are not as crazy as what you see on some other free music streaming websites. But whenever you click on a link on the website, you are redirected to an ad that is sometimes not safe.
Although we have legal websites like Audio Mack that display ads, the ads on MP3 Paw are not Google's safer ads. If you don't care about the kind of ads found on this website, then you are good.
How to download and stream music on MP3Paw
Streaming and downloading music on MP3 Paw is not a big deal. All you have to do is follow these steps. If you are using the MP3Paw app, you should have a similar experience.
Visit the MP3Paw website. The right website is MP3Paw.lol or you can use the link provided above.
Click on the search bar. You might be redirected to an ad in a new tab, just close the tab. After that, type the name of the music you are searching for.
Before you finish typing the music, you will get suggestions, just type the one that matches your search.
On the result page, you should find the music you are searching for. If you want to stream the music on the website, click "Play music", then your music should start playing right away.
If you want to download the music, just click the "Download MP3" button.
You can also cut a part of the music and use it as your phone's ringing tone. Just click the "Ringtone" button and choose where to start and end.
If you don't want to be redirected to too many ads, you can use the "Chrome Blocker" extension or Adblocker for Android users.
Mp3Paw Alternative
MP3Paw is by far the best free music download website, but you are not limited to using this website alone. The website could go offline at any time; that's why you need alternatives. The list below is MP3Paw alternatives;
Mp3 Direct
Myfreemp3
Mp3xyz
Mp3goo
Zamob and a lot more.
Summary
If you are on a budget, MP3 Paw will give you all of the music you would have purchased for free. Navigating the website is easy, and you've got many features like Search functionality, High-quality music, downloading of music, playing music, and the ability to cut a part of music and download it as a ringtone.
The website redirects you to ads that you might find annoying, but this is justifiable since that is the website's source of income for providing the content for free.