Dummies for the iPhone 13 have been handed out to various companies who require them (usually case makers), resulting in inevitable leaks. We've previously seen a shot of all four models, and now there's much more to view.
Marques Brownlee (MKBHD) has shared a photo (the image above). All four models are dressed in white this time. And no, the regular iPhone 13 isn't bigger than the 13 Pro; it's just tilted slightly. Even if they don't have the same screen, the two models will be the same size.
Only the two Pro models are expected to sport LTPO displays with 120 Hz refresh rates, while the other two phones will stay with 60 Hz. Apple will not go all-in on LTPO until the iPhone 14 generation.
Here are a few examples of cases that have already been created. These will fit over current iPhone 12 models; however, the cameras and buttons will not line up perfectly.
And take a look at these — Benks, a Chinese accessory manufacturer, shared them. These will most likely be utilized to create iPhone 13 case molds.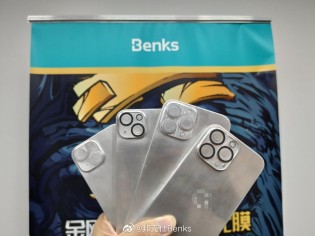 Foxconn and Pegatron will make the iPhone 13 series; mass production hasn't begun yet, but it won't be long, as Apple aims for a September release (or October if there are major delays).