If you have ever used any Infinix Phone, you must have noticed there is usually an app called Xhide. Only a few Infinix users utilize this app, and many do not even know what the app is all about. If you love keeping the privacy on your phones, then you should utilize the Xhide app found on your Infinix phone.
This article explains what the Xhide app is, how it works, set it up, and other Xhide alternatives. Without further ado, let's dive in.
Read Also: Best Infinix Phones In Nigeria
What is Xhide?
As the name implies, Xhide is an app that lets you hide some information on your phone, and these are the things you want to hide from the public. With the Xhide app, you can hide an application, photos, music files, videos, and even messages on your phone. This means you can hide anything you want to be hidden on your phone.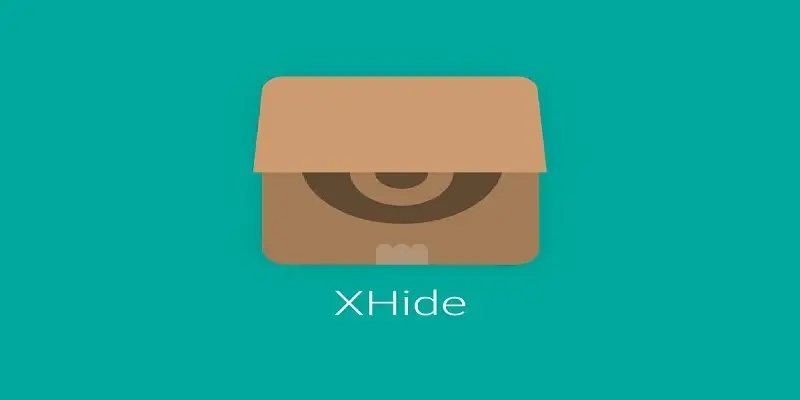 The thing is, many of us all had things that weren't meant to be viewed by others. But do you know anyone who has never had to deal with the issue of protecting their phone's privacy?
When we pass over our gadget, for example, to our parents to watch simply the photos from our holidays, they frequently start hunting for more than they intended, randomly scrolling pictures.
Then you get scared because there's something you don't want them to see. Or perhaps your friends asked you to test a file on your phone.
You're friendly, and you don't want to take your phone away from them just because you don't want them to view your personal information, but you also don't want to be in an awkward situation.
The solution is to use an app that hides this information you don't want others to see, and Xhide is a good app. You might have known other apps with similar features, but what makes Xhide better is that you can hide the app itself. So, nobody will even suspect that you are hiding something from them.
If you are running an older version of Infinix phones like the Android 7.0 Nougat and 8 Oreo, you've got an option that makes the Xhide app even better. The Xhide app in this android version has its method for unlocking it.
It operates by dialing a pre-programmed code in your phone's app drawer to access the files stored within, which is not common among other similar third-party apps available.
How to Activate and set up Xhide on Infinix Phones
Firstly, your Infinix phone should be running the Android 7.0 or 8 Oreo operating system and  Infinix XOS 2.1 Chameleon UI or later. The app is already pre-installed for those running the Android 8 Oreo or later version, while those running the Android 7.0 have to download it. Here is the step to download and installed the Infinix Xhide App on your phone.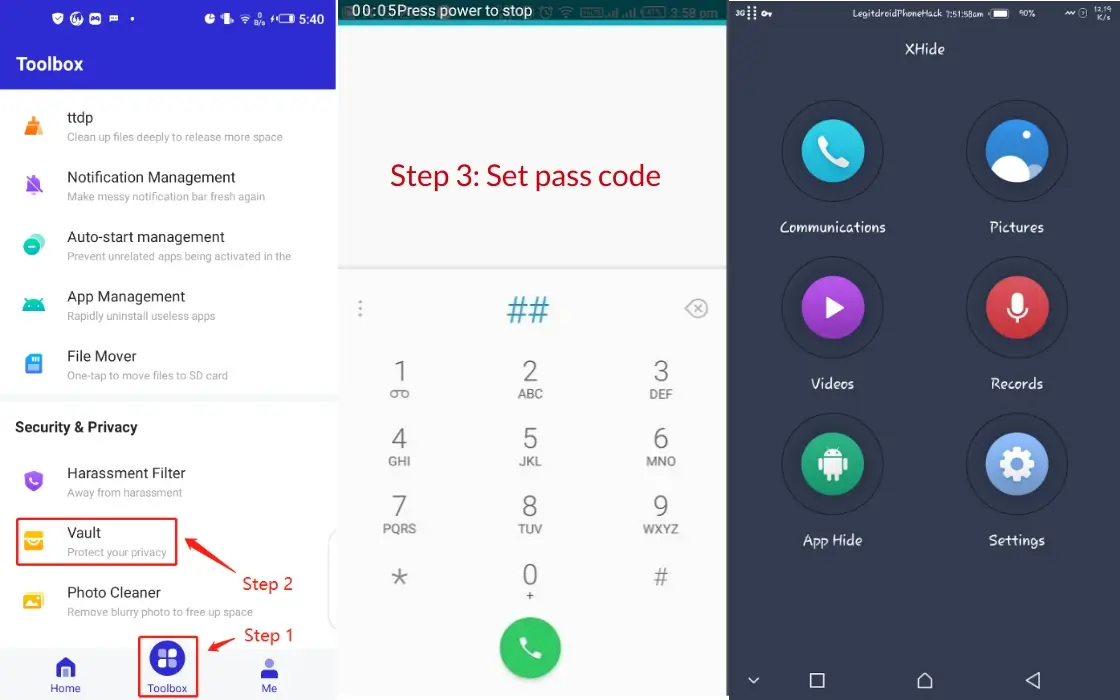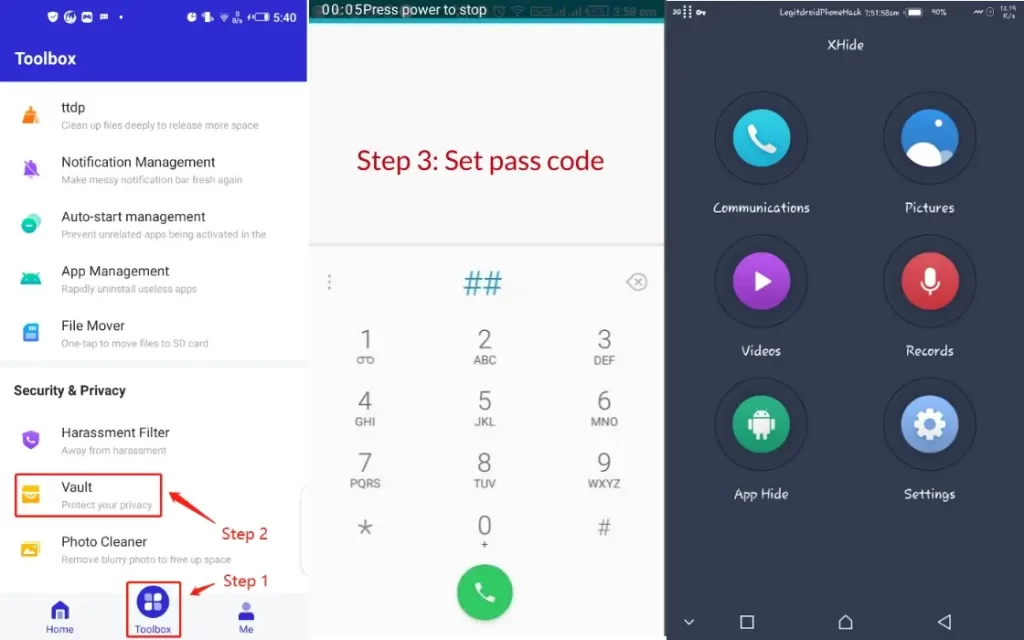 Step 1: Go to Play store and download Phone Master or click here. If the app is already on your phone, skip this step.
Step 2: Launch the app
Step 3: Click on the Toolbox tab, found at the bottom of the page
Step 4: Scroll to the bottom of the page and Click Xhide option
Step 5: You will be prompted to set a unique code; this is the code you will be asked anytime you access the vault. After setting the code, you will be taken to a page you can set whatever you want hidden on your phone.
Step 6: After hiding any file or app you want; you can only access those apps or files through the app.
Like I said earlier, you can hide the app itself from showing on your phone. To do this, follow these steps;
Tap on Settings
Then enable the Hidden Mode toggle. That's all to it.
Why can't I find the Xhide App on my Infinix Phone?
The latest Infinix Phones, especially those released with the Android 10 operating system and the latest Android version, do not have the Xhide app pre-installed. If you've used the Xhide app in your previous Infinix phone and had love to use it with your latest phone, then you should check out the Xhide alternatives below.
Infinix Xhide Alternatives
If your Infinix phone does not come with the Xhide app and still wants an app that keeps your privacy and has a well-developed feature like the Xhide app, here are some alternatives. This Xhide alternative will do an excellent job of protecting your privacy.
Vault
SmartApp lock
Hide Photos Video – Hide it Pro
Secret Photo Vault – Keepsafe
If you have any issue installing or activating the app, Do let me know in the comment section below.