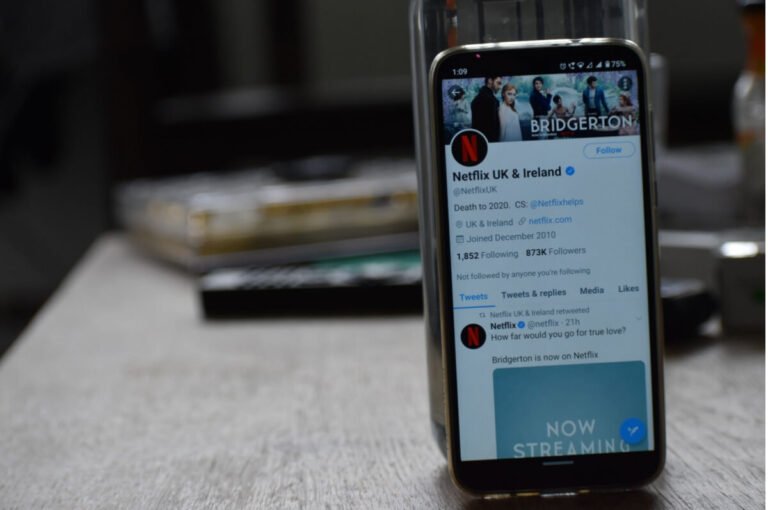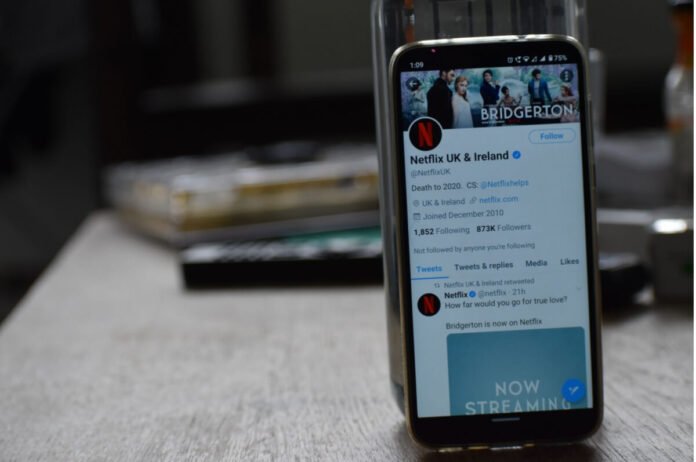 It is no longer news that Netflix is now available in Nigeria, and you now have access to all the benefits you can get from Netflix. Before the arrival of Netflix in Nigeria, many people stream on the platform through VPNs, but now you don't need a VPN before you can access the streaming platform.
To register for a Netflix account in Nigeria, all that is required is an email address, a payment method, and a password that is extremely difficult to guess. Another thing to think about is the Netflix plan you should choose.
Do you know you can watch movies on Netflix on your mobile phone, tablet, laptop, computer, TV, Xbox, and Playstation? Yes, you can watch movies on Netflix through any streaming device available in the market.
In this article, we give a step-by-step guide on how to sign up for Netflix in Nigeria. We will also help you in choosing which Netflix plan you should go for.
Without further ado, Let's dive in.
Signing up for Netflix in Nigeria: Pick a Plan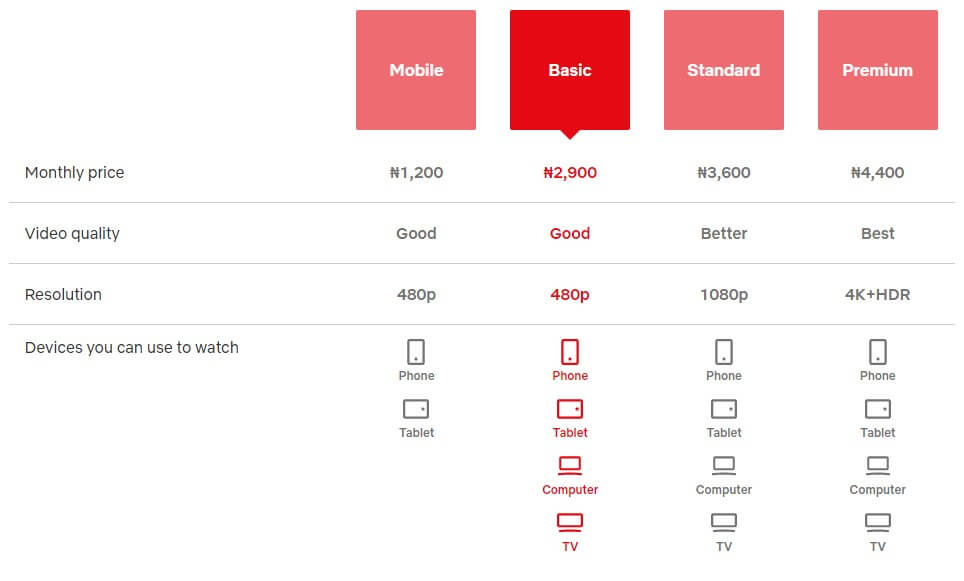 Netflix gives Nigerians four options to choose from when selecting a plan. You've got a Mobile plan, targeted at those who will be using their mobile phones to stream. The other plans are Basic standard and premium.
Mobile Plan
The mobile plan is the right choice for you if you only want to watch movies and TV shows on your mobile phone or tablet alone. The plan costs only NGN1200 and you can watch movies at a resolution of 480p max.
You might be thinking that 480p resolution is way too low, but your phone resolution is probably not more than that. Even if your mobile phone resolution is 1080p, you won't be able to really tell the difference. If you choose a higher plan, you won't see much difference.
Basic Plan
The basic plan costs only NGN2,900 and you can stream Netflix on any type of device including your Laptop and TV. If you will want to watch most of your movies on your TV, then I'd suggest you go for the Standard plan. The basic plan streams at 480p, and if your TV is HD, then you will not be happy with this plan.
Standard Plan
The best plan for most people is the standard plan. The standard plan costs NGN3600 a month, and you have plenty of options. You can stream on two devices at the same time, especially those of you that will love to share your login details with family.
The standard plan gives you movies at a higher resolution, 1080p (HD). You can stream virtually on any streaming device. This plan is by far the best.
Premium Plan
If you have a TV with 4K resolution, you should know how amazing it is to watch movies on an ultra-high-definition TV. The Premium plan allows you to stream your movies at 4K resolution. Also, you can stream on three devices at the same time.
The downside to streaming on the premium plan in Nigeria is the issue of internet services. When you stream at 4K, you might discover that at some time your streaming is at 1080p due to the bad internet service in Nigeria.
If you know that your internet service is not that great, you should avoid the premium plan altogether.
Netflix Nigeria: Step by Step Guide
Follow this step-by-step guide to register for a Netflix account in Nigeria.
Visit Netflix.com, you should be redirected to Netflix.com/ng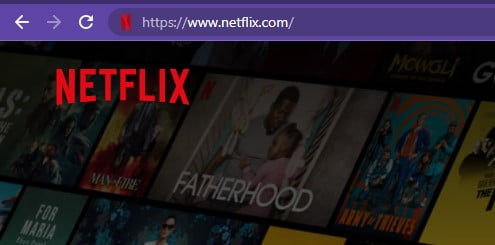 Enter your email address and then click on Get Started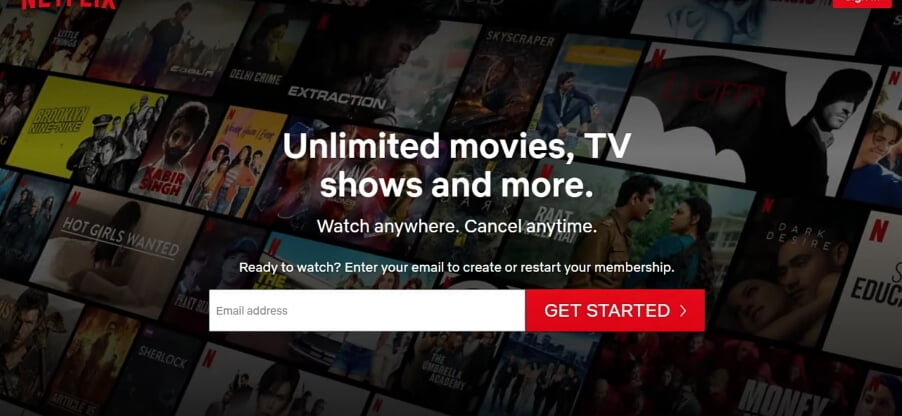 Create a password, and click continue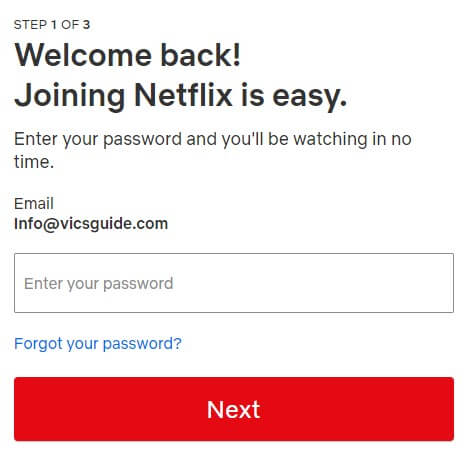 Choose your preferred plan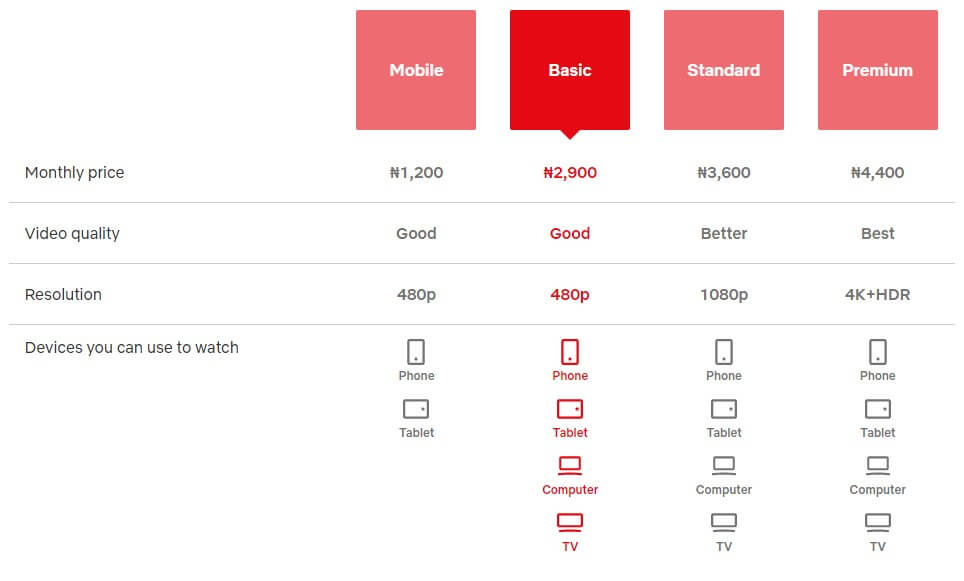 Pick your preferred payment method and then click on pay.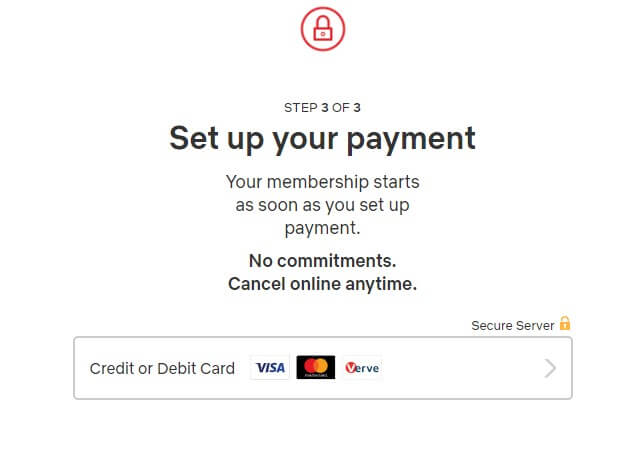 You will be debited immediately and you can cancel your subscription anytime, for those that want to pay only once.
Now you have successfully signed up for Netflix in Nigeria and you can opt-out anytime you don't want to use the service again. To get a free trial account, check out our guide on how to sign up for Netflix free trial account, or how to cancel your Netflix subscription.
You can also read our guide on the best Netflix shows right now, as well as how to download Netflix TV series and movies. You can also learn how to change your Netflix password if you've forgotten it, as well as how to cancel your Netflix account.
Problems with streaming platforms like Netflix in Nigeria
Streaming on Netflix and any other legal platform in Nigeria like Showmax is a topic on its own. Nigerians face many issues with streaming platforms due to the bad network services we have in Nigeria.
1. Bad Network Services
The issue is not with Netflix, but with your service provider. Network service in Nigeria is bad to the extent that you might not really enjoy the benefit of the service you are paying for. Although the issue is not faced in some locations, most locations in Nigeria are faced with bad Internet services.
For example, If you pay for a Netflix plan that gives you HD resolution, you might be getting only 480p because the network service is not so good.
2. Cost of Data
Another issue faced by most of Nigeria is the cost of data. With streaming services, you will have to pay the streaming provider (Netflix) and also purchase data. Many people that consume a lot of data might not care about this, but for the average Nigerian, this might be an issue.
You can check out the 9mobile data plan and MTN data Plan
How Much Does Netflix Cost in Nigeria?
The cost of the different Netflix plans in Nigeria is listed below.
Mobile Plan: NGN1,200
Basic Plan: NGN2,900
Standard Plan: NGN3,600
Premium Plan: NGN4,400
How to Connect Netflix to your TV
To stream Netflix on your TV, you must have a smart TV. A smart TV comes with an operating system that allows you to download apps and also browse the internet. To stream on your TV, you have to go to your TV's browser and then follow the guide above.
Note that your TV must be connected to a hotspot or you plug in a wired internet device.
Would Netflix work with a slow Internet connection in Nigeria?
Your internet service must be good to stream on Netflix. If you can watch YouTube without any issue, then you should be able to stream on Netflix. The only issue is that, if the internet speed is too slow, you might not be getting the best resolution.
If you have any questions you might want to ask, leave a comment below and we will try as much as possible to reply.