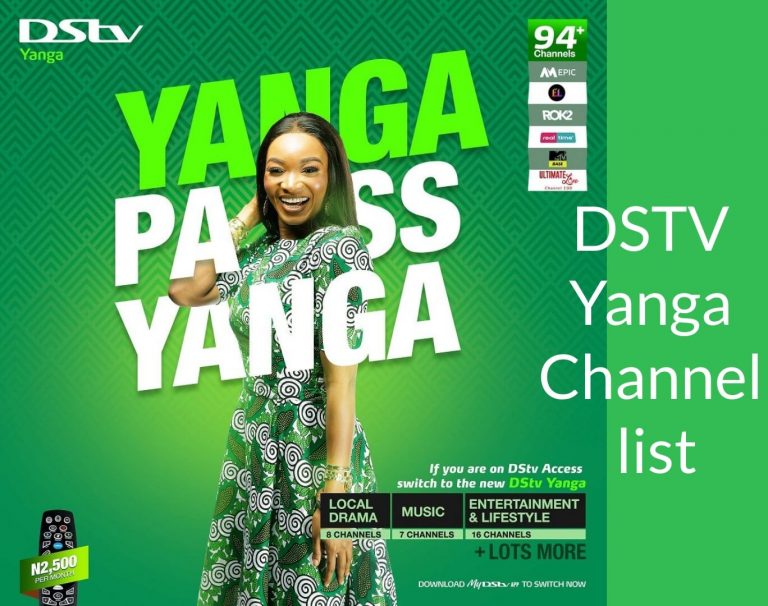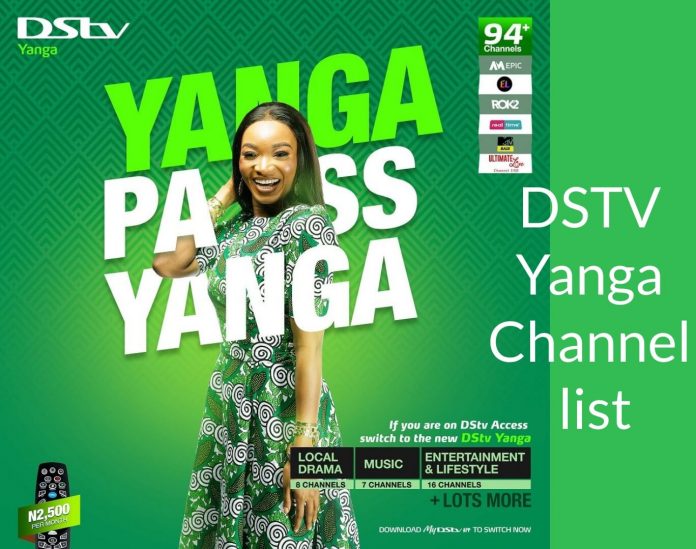 DSTV Yanga, a new package introduced by Multichoice Nigeria, is the second cheapest Bouquet released in December 2019. With the release of this new package, DSTV subscribers now have a wide range of options to choose from.
Many people get confused about which package to get, especially those who are on a budget. For this reason, this article comprises the DSTV Yanga Channel list and prices in Nigeria and a quick comparison between Confam, Yanga, and Yagi to help you decide if Yanga is the right choice for you or any of you the other two channels.
Read Also– Best Cheap phones | Best 4GB RAM phones | MTN data plan | DSTV Compact
About DSTV Yanga
The DSTV Yanga package is the second cheapest Bouquet among the six (6) available packages on DSTV. As advertised on the DSTV website, you are entitled to 85+ channels and 7 HD channels when you subscribe to this package. The package gives you almost all the local channels available on DSTV.
DSTV Yanga spots Nollywood movies and Drama, music and fun, kid's channels, reality shows, and lots more.
DSTV Yanga Channel List and Codes
DSTV Yanga provides you with many interesting channels ranging from local media, religious channels to International channels, News and eCommerce, and a lot more.
Here is a list of all DSTV Channels and their codes;
Movies and Drama
M-NET MOVIES 4 (108)
TELEMUNDO (118)
E! ENTERTAINMENT (124)
EVA + (142)
AFRICA MAGIC EPIC (152)
AFRICA MAGIC FAMILY (154)
AFRICA MAGIC HAUSA (156)
AFRICA MAGIC YORUBA (157)
AFRICA MAGIC IGBO (159)
ROK GH (164)
ZEE WORLD (166)
ROK 2 (169)
TELEVISTA (194)
TRYBE (195)
B4U MOVIES (451)
Lifestyle and Documentaries
DISCOVERY FAMILY HD (136)
REAL TIME (155)
NATGEO WILD (182)
SPICE TV (190)
Sport Channels
SS BLITZ HD (200)
SS FOOTBALL (205)
Nigerian channels
AFRICA MAGIC EPIC (152)
AFRICA MAGIC FAMILY (154)
AFRICA MAGIC HAUSA (156)
AFRICA MAGIC YORUBA (157)
AFRICA MAGIC IGBO (159)
ROK GH (164)
ROK 2 (169)
POP CENTRAL (189)
SPICE TV (190)
TELEVISTA (194)
TRYBE (195)
ONMAX (257)
HIP TV (324)
SOUND CITY (327)
Kid's Channels
NICKELODEON (305)
CBEEBIES (306)
DISNEY JUNIOR (309)
JIM JAM (310)
PBS KIDS (313)
MINDSET (319)
Music Entertainment
POP CENTRAL (189)
MTV BASE (322)
HIP TV (324)
TRACE NAIJA (325)
AFRO MUSIC ENGLISH (326)
SOUND CITY (327)
URBAN TV (328)
Religious Channels
FAITH (341)
DAY STAR (342)
TBN (343)
SBN (345)
ISLAM CHANNEL (347)
ETERNAL WORD TELEVISION NETWORK (348)
DOVE TV (349)
LUMEN CHRISTI (350)
EMMANUEL TV (390)
TV MUNDIAL (P) (680)
News and Ecommerce Channels
BBC WORLD NEWS (400)
AL JAZEERA (406)
CGTN NEWS (409)
EURONEWS (414)
CNC WORLD (415)
ARISE NEWS (416)
Local Channels
NTA I (251)
SILVERBIRD (252)
AIT (253)
CHANNELS (254)
MITV (255)
LAGOS TV (256)
ONMAX (257)
GALAXY TV (258)
WAZOBIA MAX (259)
OGTV (260)
AREWA 24 (261)
WAP TV (262)
SUNNA TV (351)
NTA 2 (369)
NTA PARLIAMENT (370)
PLUS TV AFRICA (408)
TVC NEWS NIGERIA (418)
NTA NEWS 24 (419)
African Channels
MAISHA MAGIC EAST HD (158)
MAISHA MAGIC BONGO (160)
ETV AFRICA (250)
K24 (275)
CLOUD PLUS (294)
WASAFI TV (296)
TRACE JAMA (333)
CITI TV (363)
DOMINION TV (364)
SABC NEWS (404)
NEWZROOM AFRIKA HD (405)
AFRICA NEWS (417)
JOY NEWS (421)
International
RAI INTERNATIONAL (430)
NHK (431)
TV5 MONDE AFRIQUE (437)
DEUTSCHE WELLE (446)
CCTV 4 (447)
CGTN DOCUMENTARY (448)
CGTN FRENCH (449)
CCTV ENTERTAINMENT – MANDARIN ENTERTAINMENT CHANNEL (480)
CHINA MOVIE CHANNEL (481)
SHANGHAI DRAGON TV (482)
HUNAN TV (483)
ZHEJIANG TV (484)
PHOENIX NEWS AND ENTERTAINMENT (485)
RTPI (P) (525)
NDTV 24×7 (413)
Audio channels
BBC WORLD SERVICE ENGLISH (850)
BBC WORLD RADIO 2 (851)
BBC AFRICAN LANGUAGES (852)
VOICE OF AMERICA (853)
WORLD RADIO NETWORK (854)
CHANNEL ISLAM INTERNATIONALE (865)
RADIO FRANCE INTERNATIONALE (866)
RAYFM (868)
STAR (869)
RHYTHM (870)
TRANSAFRICA RADIO (872)
Read Also- Xiaomi Mi 11 Review
DSTV Yanga package price in Nigeria
DSTV Yanga's price in Nigeria is NGN 2,950 per month and NGN 32,450 per year. When you pay annually, you pay for only 11 months and get one month free. Note that you get 11 audio channels and 7 HD channels along with the list above.
How to pay for Yanga Bouquet
There are various ways to pay for DSTV Yanga Bouquet. You could pay through quickteller, Paga, mobile banking app, ATM, and many other reputable banking agents like MoMo, SurePadi, and lots more. You can pay through any means convenient for you.
Padi Vs Yanga Vs Confam
Note that the price of all the packages on DSTV is arranged such that the higher the cost, the more channels you get. With that said, if you go for a package with a high price, you get all the packages in the lower-cost package with extra channels to watch.
If you want all the available channels on DSTV right now, then DSTV premium gets you that. But you might not be interested in all of these channels. That is why it's good to make comprising to see the package with all the channels you'd love to watch.
Padi Vs Yanga
Yanga gets you all the available packages on Padi with extra 55 channels. Padi cost NGN 2,150 while Yanga cost NGN 2,950. So, an extra NGN 800 on Yanga gets you 45+ channels. There are only 40+ channels on DSTV Padi.
Yanga VS Confam
Confam gets you all the available channels on Yanga with extra 25 tracks. The cost of Confam is NGN 5,300; therefore, an extra NGN 2,350 gets you 25 channels more. Here is a list of channels on Confam, not on Yanga;
M-NET CITY (115)
UNIVERSAL TV (117)
FOX (125)
BET (129)
CBS REALITY (132)
EVA (141)
TNT AFRICA (137)
STAR LIFE (167)
BBC LIFESTYLE (174)
FOOD NETWORK (175)
SS LALIGA HD (204)
SS VARIETY 3 HD (208)
SS VARIETY 4 (209)
ESPN (218)
CARTOON NETWORK (301)
BOOMERANG (302)
DA VINCI KIDS (318)
TRACE GOSPEL (332)
TRACE JAMA (333)
CNN INTERNATIONAL (401)
Conclusion
The DSTV Yanga is ideal for those who want to watch Nigerian channels and many movies and entertainment channels. If you are too concerned about having more sports channels or don't want to miss out on CNN news, then the Confam package should be what you are going for.
So that its, DSTV Yanga channels list and prices in Nigeria are discussed above. Which of the three options listed above do you prefer? I'd love to know in the comment section below.