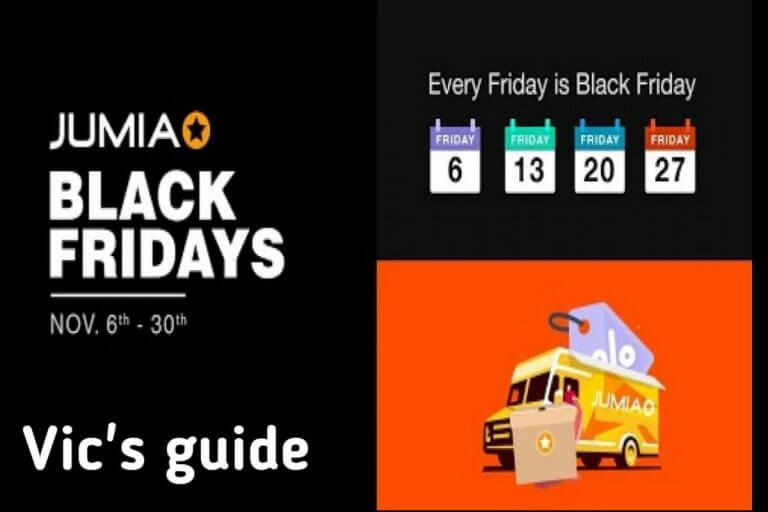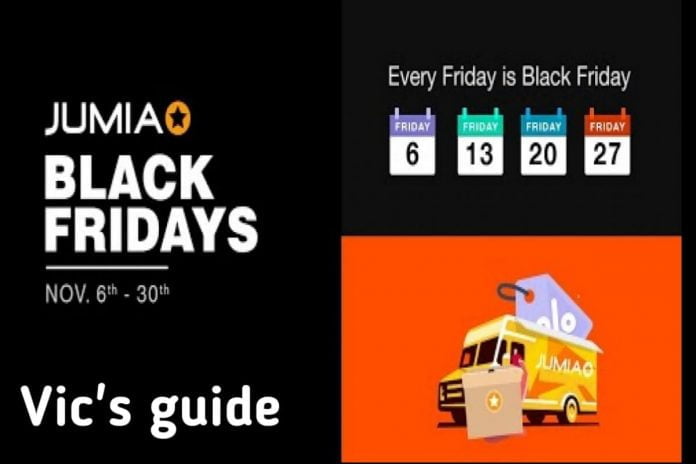 Jumia Black Friday 2021 is nowhere! You will find amazing discounts of up to 75% off on Jumia Black Friday. We'll run you through a few of our favorite picks of the best deals. But before that, let take a quick look at what Jumia Black Friday is all about.
Jumia black Friday 2021: Quick facts
What is Jumia black Friday?
Jumia Black Friday is the biggest online shopping day event in Africa which is always scheduled to hold in November. Best online deals ranging from phones, TVs, Laptops, gadgets, household shores, to clothing at amazing discounts are always available during this period.
When is Jumia black Friday?
Jumia Black Friday is scheduled to hold from the 5th to the 30th of November this year. Every Friday between this date is black Friday. This means that the best Jumia deals in the year fall on Friday 5th, 12th, 19th, and 26th November 2021.
How do I get the best deals on Jumia black Fridays?
When you are shopping for the best deals on Jumia, make sure you make your research before Black Friday, compare prices, and check out the quality of the products. If you don't have time for all this, no worries, we got you covered in this article.
Another thing to note is that you get free shipping of all Jumia Black Friday offers if you live in areas eligible for free shipping like Lagos. All the prices shown below will only appear on the Jumia website on Black Fridays. Make sure you order the products only on Black Fridays.
Also, not all the products found on Jumia are actually discounted. If you want to actually get a product with a discount, make sure you buy from the official store. Jumia has partnered with official stores like Umidigi, TCL, Intel, Itel, Blackview, Oraimo, Edifier, Adidas, and a lot more.
Jumia Black Friday Deals: Quick links
Best Overall Black Friday deals
Samsung Galaxy A12: Was ₦97,500 now ₦74,990
The Samsung galaxy A12 sports a MediaTek Helio P35 Octa-core 4 x 2.0 GHz processor, 4GB RAM, 64GB ROM, Quad 48MP + 5MP + 2MP + 2MP camera and 8Mp Selfie camera. It's under sale for 74,990 but you get free shipping if you live in Lagos.
---
Lloyd Smart TV 55-inch: was ₦159,900 now ₦119,990
Lloyd 55-inch smart TV is an Android TV with google assistance. You get an FHD 1920 x 1080 resolution, 2 HDMI ports, 2 USB ports, 60Hz refresh rate, 178° viewing angle, 8W x 2 channel spearker.
---
Skyrun gas Cooker: was ₦53,000 now ₦19,900
Get this amazing four channel gas cooker for 19,900 only. This device was previously 53,000, that is around 63% off. Take the chance in Jumia black friday.
---
Nexus split A/C: was ₦150,000 now ₦90,990
The Nexus split 1HP Air conditioner was 150,000 now 90990. This device features low noice, Roughed Compressor for High Performance in Extreme Temperature Conditions and installtion kit is made of copper.
---
Oraimo FreePod 3: was ₦15,500 now ₦12,990
The Oraimo Frrepods 3 is a device that gives you the best experience when playing music. You can use this device to take calls or stream music on your Xiaomi phone or other suppported devices.
---
Umidigi A7 Pro: was ₦56,000 now ₦39,990
If you haven't heard of this phone brand before, this is a great smartphone brand gaining more popularity in the market. The Umidigi A7 pro features a 6.3-inch display, 4GB RAM, 64GB ROM and a quad rear camera.
---
Lloyd 32-inch TV: was ₦46,000 now ₦39,900
The Lloyd 32-inch TV features a 1366 x 768 resolution, 2 HDMI port, 2 USB port and 2 x 10W spaeaker. This is a great choice if you need a small TV size.
---
Scanfrost Washer: was ₦65,000 now ₦47,500
The Scanfrost Washer features a separate wash and spinner tub and consume less energy. This device is the top choice for those shopping for a great washer. The price was reduce to around 20%.
Black Friday Smartphone deals
Samsung Galaxy A10s: 60% off
The samsung galaxy A10s comes with 2GB RAM, 32GB ROM and an amazing dual camera (13Mp + 2Mp). This device is powered by Mediatek MT6762 Helio P22 octa-core processor and a battery capacity of 4000mAh.
---
Oukitel C15 Pro: up to 5,000 off
The Oukitel C115 Pro is now available on Jumia Black Friday. This device features 3GB RAM, 32GB ROM, 6.08-inch display and an amazing camera.
---
Gionee S11 lite: was now
The Gionee S11 lite is now 41,4999. This device spot 4GB RAM, 64GB ROM, a dual back camera and a 16Mp front camera. This price is only available on Jumia Black Friday.
---
Samsung Galaxy A51:
The Samsung galaxy A51 comes with 4GB RAM and 128GB ROM. This device is one of the best Jumia Black Friday offers.
---
Xiaomi Note 9s: now 98,900
If you have been eyeing the Xiaomi phones for a long now, this is the perfect time to get one. The Xiaomi Note 9s is available on Jumia at only 98,900.
---
Infinix Note 7 lite: now 72,500
The Infinix Note 7 is now available at only 72,500 on Jumia Back Friday. This device is a great choice for those looking for one of the best Infinix phones in 2021.
---
Tecno Camon 15: now 62,500
The Tecno camon 15 features a 4GB RAM and a 64GB ROM with 48Mp quad rear camera. This device helps take high quality pictures and you get only 62,500 on Black Fridays.
---
Itel P36: now 33,850
Itel P36 is now available at 33,850. This is a great choice for anybody looking for a very cheap android phone in 2020.
---
Black Friday TV Offers
LG 55-inch UHD Smart TV: now 235,000
The LG 55UM7100 comes with it own satellite decoder, a smart TV, 3 HDMI ports and 2 USB ports. You will get free shipping for this device if you stay in an eligible area.
---
TCL 32D3000 32 inch TV: now 50,700
The TCL is one of the best 32-inch TV we have seen so far. This device consume less powr and yu get a 768×1366 HD resolution and a in-built digital decoder.
---
Synix 50A1S 50-inch TV: was 183,000 now 162,000
The Synix 50A1S 50-inch smart TV brings life to your room with an amazing 4K display and a stereo 2X10W Box speaker. This device spots the Android 9.0 OS, works with google assistance, built-in WiFi and bluetooth 5.0, 4K display, voice remote control, Frameless design to mention but few.
---
Hisense 43-inch FHD TV: was 95,000 now 84,600
The Hisense 43-inch TV is now available at only 84,600 naira on Black Friday. You get an amazing 1920 X 1080 pixel resolution a wide viewing angle and enough port.
---
LLOYD 32-inch TV: now 42,990
The LLOYD 32-inch TV is one of the top Jumia Black Friday offer. This device gives you a great experience of each picture.
---
Skyworth 40-inch TV: now 73,000
The Skyworth 40-inch TV is now 73,000. This device is a great choice when shopping for the best Jumia Black Friday TV deals.
Black Friday Laptop Deals
Lenovo IdeaPad: now 185,990
The Lenovo IdeaPad spots a display of 15.6-inch display with 166 x 766 display, 8Th generation intel Core I3 processor, 8GB DDR4 RAM and 1TB HDD all available for only 185,990
---